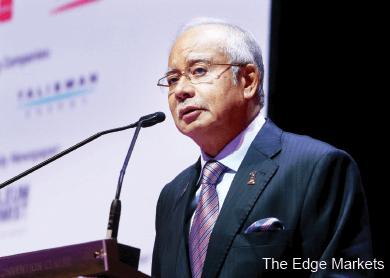 KUALA LUMPUR (March 28): The government has allocated RM2.37 billion under Budget 2016 for Kuala Lumpur International Airport Bhd's (KLIAB) loan repayment, Prime Minister Datuk Seri Najib Tun Razak said.
KLIAB is wholly-owned by the Minister of Finance (Incorporated) [MOF (Inc.)].
Najib, who is also finance minister, said in Parliament today that KLIAB's loan would mature this year.
Najib said KLIAB was set up on May 29, 1993 to undertake the development of phase one of the Kuala Lumpur International Airport (KLIA) in Sepang. The RM9 billion KLIA was opened on June 28, 1998.
Today, Najib said: "Since the works of the phase 1 of the KLIA was completed and delivered to the government, KLIAB was maintained as a dormant company that has not carried out any operation to generate any income, but merely to handle the repayment of related loan."
"The government as the guarantor of KLIAB's loan has taken over all the assets and liabilities of KLIAB related to the cost of development of KLIA. Hence, the government needs to prepare sufficient annual allocation for the purpose of repayment of the loan," he said.
Najib was responding to a question by Seremban MP Loke Siew Fook, who asked Najib to state the purpose of the RM2.37 billion allocated to KLIAB.
Loke also asked Najib on the duration of the allocation.
Najib said the government needed to "prepare" the allocation until 2019, to settle KLIAB's remaining loan.