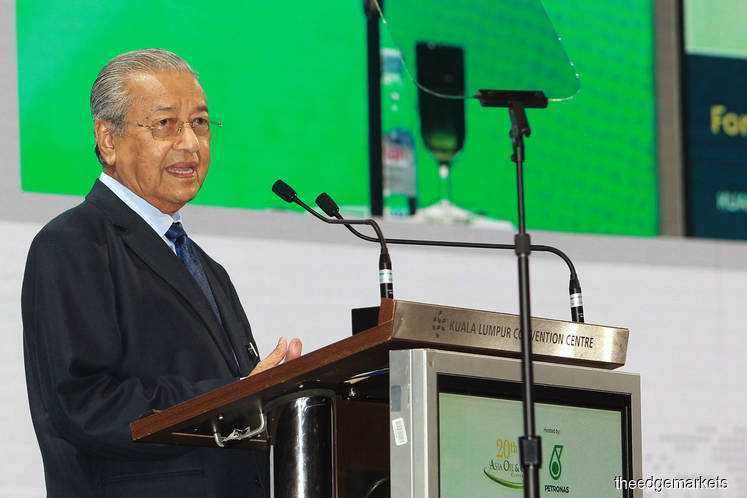 Dr Mahathir: We must therefore recognise the potential of our neighbours to forge strategic alliances on the back of a Prosper-Thy-Neighbour policy that promotes the concept of shared prosperity. Photo by Shahrin Yahya/The Edge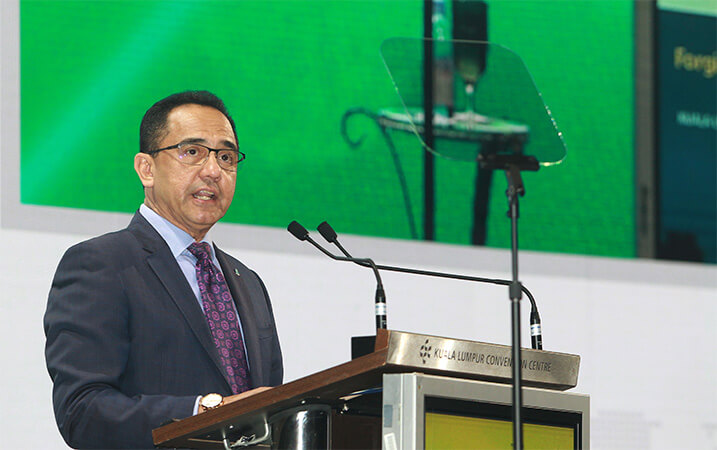 Wan Zulkiflee said the new energy landscape calls for greater collaborations not only between industry players but also with other industries. Photo by Shahrin Yahya/The Edge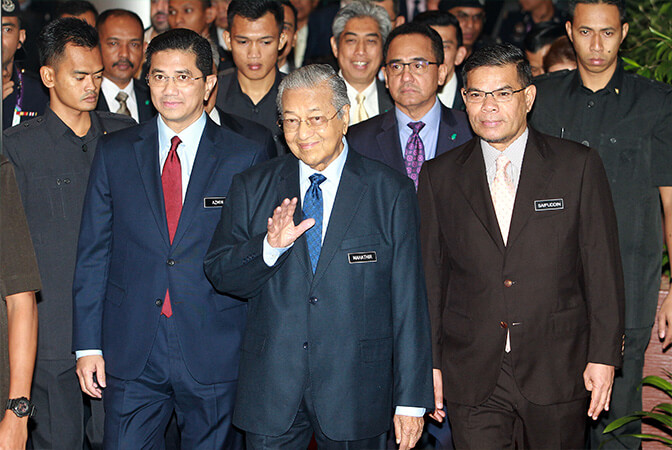 (From left): Economic Affairs Minister Datuk Seri Mohamed Azmin Ali, Dr Mahathir and Domestic Trade and Consumer Affairs Minister Datuk Seri Saifuddin Nasution Ismail at the 20th Asia Oil & Gas Conference 2019 here today. Photo by Shahrin Yahya/The Edge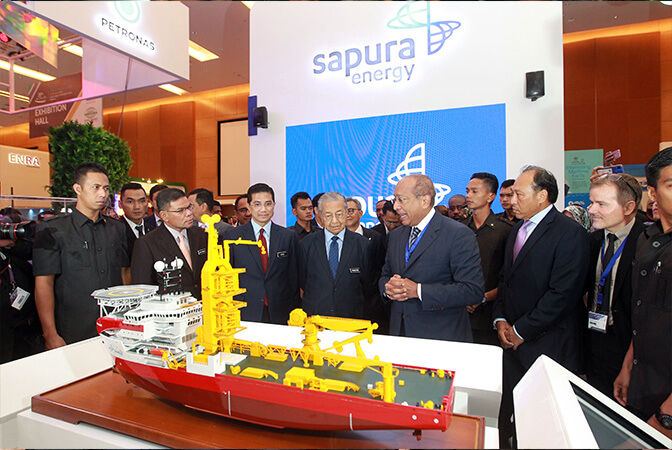 Dr Mahathir looking at an exhibit at the 20th Asia Oil & Gas Conference 2019 here today. Photo by Shahrin Yahya/The Edge
KUALA LUMPUR (June 24): To withstand the rising challenges facing the oil and gas (O&G) industry, Prime Minister Tun Dr Mahathir Mohamad is calling for Asian industry leaders to enter into strategic dialogues to open up possibilities of new avenues for collaboration that will lead to innovating new energy solutions.
Delivering his keynote address at the 20th Asia Oil & Gas Conference 2019 (AOGC 2019), Dr Mahathir stressed that for Asia to develop within the industry, the countries in the region must explore a range of options to improve energy efficiency and affordability by diversifying their energy mix.
"We must therefore recognise the potential of our neighbours to forge strategic alliances on the back of a Prosper-Thy-Neighbour policy that promotes the concept of shared prosperity. Only then can we forge a new energy future that is sustainable and secure for generations to come," he said.
In this regard, Dr Mahathir highlighted that national O&G company, Petroliam Nasional Bhd (Petronas), has spearheaded an industry-wide study with various agencies to develop an Oil, Gas, Energy and Environment White Paper on Malaysia's Future Energy Landscape.
"The study supports the country's aspirations to be a low-carbon economy with a blueprint on energy policies that will stimulate action towards achieving Malaysia's Paris Agreement pledge. Petronas and its partners should be commended for undertaking this study," he said.
Petronas president and group chief executive officer Tan Sri Wan Zulkiflee Wan Ariffin, in his welcome address, also agreed with the prime minister's sentiment.
He said the new energy landscape calls for greater collaborations not only between industry players but also with other industries. Hence, he emphasised that energy companies will need to explore non-traditional partnerships to provide innovative solutions.
"This change in mindset is crucial as the industry is faced with greater consumer demands for sustainable and responsible environmental products.
"Changes in business models brought about the digital transformation and the need to acquire different capabilities and skill sets are also important to forge partnerships beyond the energy space — all towards ensuring the sustainability of our organisations as well as the industry as a whole," Wan Zulkiflee said.
In its 20th edition, AOGC 2019 bears the theme 'Forging a New Energy Future'. For the next two days, it will host strategic conversations that address the growing demand for affordable, accessible and efficient energy.
With 1,400 delegates from 34 countries, the conference will also address how the industry should continue to seek opportunities in forging a sustainable energy future for generations to come, Wan Zulkiflee added.
"The convergence of experts from other industries, topics that addresses current and pertinent energy issues and cross-industry sharing of experiences will hopefully bring different perspectives to the dialogues and conversations surrounding the conference," he said.