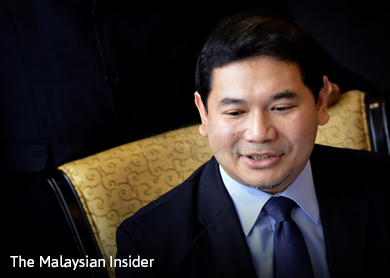 (Aug 21): PKR has urged Barisan Nasional (BN) MPs to support a vote of no confidence against the prime minister in the Dewan Rakyat, with the offer of setting up a transitional government to last three years.
Party secretary-general Rafizi Ramli said he believed at least 25 such MPs in the ruling coalition who realised that the country was in trouble loved the nation enough to support such a vote.
Rafizi said Malaysia was facing its worst crisis, with the weakening currency affecting prices of goods and the country's competitiveness.
The Pandan MP added that the people were also uneasy with the financial scandals involving Datuk Seri Najib Razak, and at the same time were helpless about the ability to bring change as the country's institutions were under the influence of the prime minister.
"The people are losing faith in politicians who are seen unable to set aside their political differences to save Malaysia.
"What more when Umno and Barisan Nasional politicians are seen as being easily duped with position and power.
"And I'm sure MPs, be they from the opposition or Barisan Nasional, understand this sentiment, that is why I'm hoping to see 25 MPs from BN come forward to support a no-confidence vote against the prime minister," he said in a statement today.
Rafizi said the terms of the transitional government would include reforming the election system so that the 14th general election, due in 2018, could be carried out in a free, fair and transparent manner.
He also mooted an economic transformation agenda to get rid of the goods and services tax (GST), and to uphold press freedom and the rule of law.
"I appeal to Barisan Nasional MPs to put the interest of the people first and realise the power they hold.
"These 25 can create history as the leaders of the country who saved Malaysia from the rot that is taking place," he added.
Rafizi urged MPs who support a no-confidence vote against Najib and for a transitional government to be set up to openly reveal their support to the people. – The Malaysian Insider