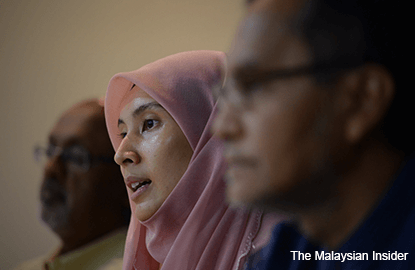 KUALA LUMPUR: PKR has filed a civil suit against Prime Minister Datuk Seri Najib Razak for committing election offences, following The Wall Street Journal's (WSJ) report of US$700 million (RM2.6 billion) in his personal accounts, which has now been confirmed as a "donation".
The suit, filed yesterday morning in the Kuala Lumpur High Court through lawyer Tommy Thomas, also named Barisan Nasional secretary-general Datuk Seri Tengku Adnan Tengku Mansor, state investment firm 1Malaysia Development Bhd (1MDB) and the Election Commission as defendants.
The suit was brought by the party's jailed de facto leader Datuk Seri Anwar Ibrahim, vice-president Nurul Izzah Anwar, Batu member of parliament Tian Chua, former secretary-general Datuk Saifuddin Nasution Ismail and Gerakan Harapan Baru member Dr Dzulkefly Ahmad.
"It is obvious that the RM2.6 billion used is more than 26 times the allowed amount as outlined by Malaysian laws," said Nurul Izzah at a press conference at the PKR headquarters yesterday.
Section 19 of the Election Offences Act limits electoral spending to RM100,000 and RM200,000 for a state and parliamentary candidate, respectively.
Najib said that the Malaysian Anti-Corruption Commission (MACC) had cleared him of corruption over the RM2.6 billion in his personal accounts, which he reiterated was held in trust on behalf of Umno, of which he is president, and not for his personal use.
MACC announced that the money was from a Middle Eastern donor and not from 1MDB.
Allegations of RM2.6 billion in Najib's accounts first surfaced in a report by The WSJ on July 2, citing documents from Malaysian investigators. — The Malaysian Insider
This article first appeared in digitaledge Daily, on August 13, 2015.