This article first appeared in The Edge Malaysia Weekly, on July 1, 2019 - July 07, 2019.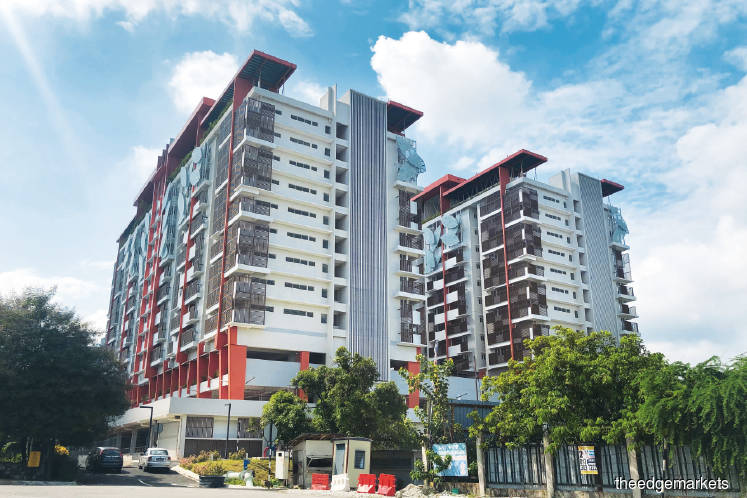 The hostels were completed recently and are vacant. Photo by Shahrin Yahya/The Edge
THE Selangor State Development Corporation (PKNS) is putting two blocks of newly completed hostels in Kelana Jaya, Selangor, up for sale with a reserve price of RM212.3 million.
The properties — both 11 storeys tall with two levels of basement car park — sit on a 3.653-acre leasehold site on Jalan SS8/6, within the industrial area of Kelana Jaya, just off Lebuhraya Damansara-Puchong.
Advertisements inviting interested parties to place their bids for the buildings have been appearing on publications over the past few weeks. The closing date for the tender is July 3.
PKNS did not respond to questions sent by The Edge.
According to the advertisements, companies interested in bidding can buy the tender document through a representative who possesses a letter of authorisation and Companies Commission of Malaysia business registration certificate.
In an article published in 2013, PKNS had said it was building a housing complex known as Kompleks Kediaman Pekerja Industri for industrial workers. The project was to comprise three nine-storey blocks of hostels that would cater for 10,000 factory workers of Western Digital (M) Sdn Bhd as well as other industrial workers in the area. The apartment-style hostels were to be built on a 6.08-acre site, offering a total of 432 units and 1,500 parking bays. The estimated cost of construction was RM178 million. It is not known if PKNS had planned to hold the asset for recurring income.
The project, located just a stone's throw from Western Digital's manufacturing facility at the Sungei Way Free Trade Industrial Zone, was to incorporate green concepts through its landscaped gardens on the rooftop and podium.
Its original completion date was December 2015. However, documents sighted by The Edge show that in 2015, PKNS had decided to scale down the project to two hostel blocks. The Edge also learnt that both blocks were completed only recently and are vacant.
When contacted, property consultant Adzman Shah Mohd Ariffin says based on a 2015 deal where Sunway Bhd bought a 17-acre parcel nearby for RM286 million via open tender, the effective valuation works out to RM386 per sq ft for the commercial land. "With time lapse adjustments, size, leasehold tenure and residential use, it (the land alone) could be around RM250 psf."
He estimates that PKNS' reserve price is based on the average value of condominiums (extrapolated from the RM212.3 million) of RM600,000.
"As a hostel, it looks very expensive, but as a condo, it is reasonably priced. The only problem is that these condos do not have individual strata titles to be sold individually," he says.
"Hence, the buyer will need to work out the best use for them — for example, for hospitality use or as a high-end expatriate housing complex."
It is worth noting that Western Digital announced in March that it was selling its hard disk drive manufacturing facility at the Sungei Way Free Trade Industrial Zone, where it has been operating for more than two decades.
The facility is expected to cease operations by year end. The sale involves two buildings measuring 500,000 sq ft each sited on 3.6-acre and 11-acre parcels of land.
According to sources, PKNS' decision to sell the hostel blocks may have been prompted by Western Digital's move to shut down its factory.
Western Digital (M) managing director Gouw Kim San did not reply to a request for comment by press time.
It remains unclear if the hostels were built predominantly to house Western Digital staff and, thus, the closure of the factory has had an impact on PKNS' plans. It is also not known if the parties had a contract or whether a settlement was reached.
It is also uncertain the number of employees who will be let go as part of Western Digital's rationalisation exercise, except that they are predominantly foreigners.
According to PKNS' website, the statutory body was established in 1964 as a development agency for Selangor. PKNS Real Estate, as the investment unit of the PKNS group of companies, spearheads investments related to real estate for the entire group. Apart from land, the group has a real estate portfolio worth about RM700 million, comprising three shopping complexes and three office buildings.