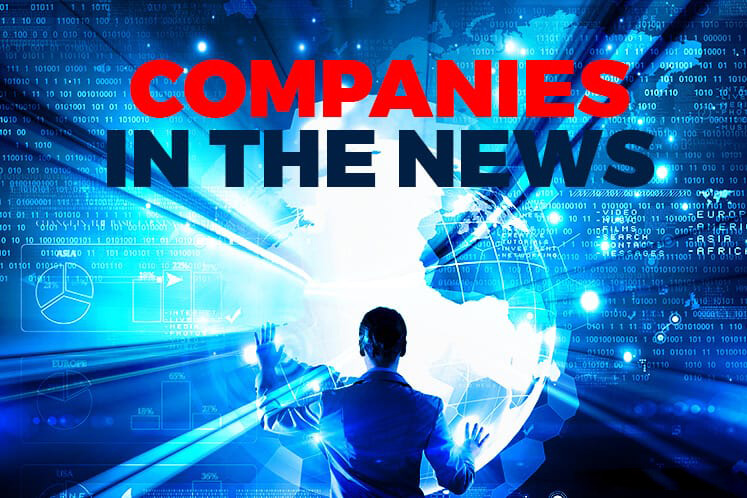 KUALA LUMPUR (Aug 16): Based on corporate announcements and newsflow today, stocks in focus for Monday (Aug 19) may be as follows: Pintaras Jaya Bhd, Pentamaster Corp Bhd, AirAsia Group Bhd, Dialog Group Bhd, Guocoland (M) Bhd, Elsoft Research Bhd and Vizione Holdings Bhd.
Pintaras Jaya Bhd's unit secured an RM91 million (S$30 million) piling contract in Singapore. The project is to commence in October for nine months. This now brings total cumulative contracts secured by the group to 10 projects worth RM247 million. It had earlier announced on July 31 that it had secured nine piling contracts worth RM156 million since April.
Pentamaster Corp Bhd's second quarter net profit rose 40.11% to RM19.54 million from RM13.95 million last year. Quarterly revenue increased 18.03% to RM120.74 million from RM102.3 million last year. The group attributed its higher revenue to greater sales from its automated test equipment and factory automation solutions segments.
For the cumulative six months, net profit grew 84.7% to RM39.11 million from RM21.17 million last year, with half-year revenue rising 18.75% to RM239.5 million from RM201.68 million previously.
AirAsia Group Bhd CEO Tony Fernandes will be temporarily appointed the CEO of airasia.com, the low-cost carrier's travel and lifestyle e-commerce platform, with the group appointing a new CEO who will report to Fernandes in due course. Karen Chan will be the platform's chief commercial officer, with Spencer Lee as chief operating officer.
Meanwhile AirAsia Software Engineering and Technology's Elias Vafiadis will lead the platform's software engineering and a chief product officer will also be appointed to airasia.com.
AirAsia group deputy CEO (airlines) Bo Lingam has been appointed as president of airlines for AirAsia Group Bhd, while also heading AirAsia SEA. Aireen Omar has been appointed AirAsia Group Bhd President (RedBeat ventures) and will helm its corporate venture capital arm.
Dialog Group Bhd is increasing its stake in Haliburton Bayan Petroleum Sdn Bhd (HBP) to 75% for US$8.22 million (RM34.5 million) cash. The group will purchase an additional 25% stake from HBP's other shareholder Asia Energy Services Sdn Bhd, thus bringing its stake in HBP to 75%. HBP is an independent technical service contractor for the Oilfield Services Contract (OSC) with Petronas Carigali Sdn Bhd. The contract is for the provision of contractor services required for the enhancement of recoverable reserves from the Bayan Field, near Bintulu, Sarawak and having a term of 24 years.
Guocoland (M) Bhd  posted its fifth consecutive quarterly loss for the fourth quarter ended June 30, 2019, But the net loss narrowed to RM11.69 million from RM35.73 million last year. Quarterly revenue stood at RM131.02 million against a negative net revenue of RM100.45 million last year.
The group said the swing in revenue was due to earnings recognised from the launch of the Emerald Hills in Cheras.
For FY19, the group posted a net loss of RM32.53 million from the RM19.49 million last year, despite revenue rising 70.85% to RM414.36 million from RM242.53 million previously.
Elsoft Research Bhd's 2QFY19 net profit declined 47.65% to RM6.29 million from RM12.01 million last year. Meanwhile, quarterly revenue declined 48.94% to RM12.33 million from RM24.15 million.
First-half net profit fell 44.39% to RM11.18 million from RM20.1 million last year. Revenue also shrank 44.78% to RM22.22 million from RM40.64 million.
Vizione Holdings Bhd is looking to raise up to RM59.08 million via a private placement of up to 10% of its total shares to  third party investors to be identified later. Proceeds from the exercise will be used to partly finance existing construction projects, as well as for the payment of tender/contract deposits and/or performance bonds for new projects. The exercise entails an issuance of up to 62.19 million new shares.