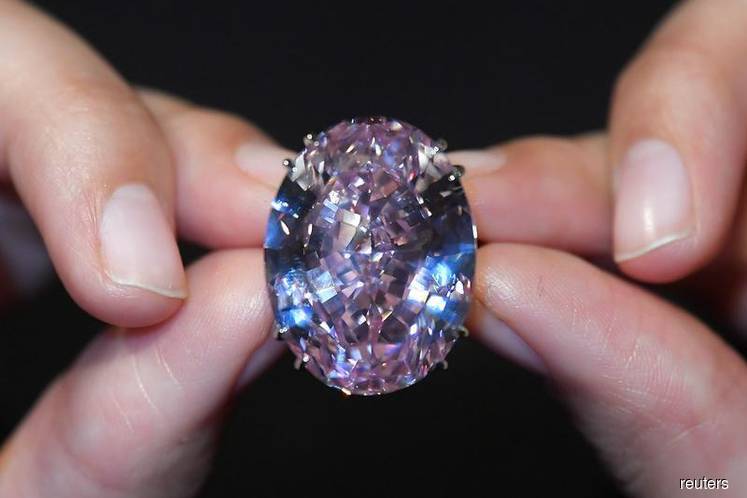 KUALA LUMPUR (April 8): The purchase of the pink diamond worth millions of ringgit did not take place in Malaysia, although the sales agent had brought the precious stone in and out of the country, according to deputy Finance Minister Datuk Amiruddin Hamzah.
"Regarding this high-profile case, I think it was answered by the (Finance) Minister (Lim Guan Eng) last year that they were brought (into the country) by an agent," he said.
"The agent had declared bringing in (the jewellery), and later declared the same when they were taken out.
"So, no purchase occurred because the agent had taken the jewellery out," Amiruddin said during the winding-up session on the Customs (Amendment) Bill 2019 today.
The Deputy Minister was responding to a question by Wong Hon Wai (PH-Bukit Bendera) on whether any Customs form was filed and duty paid with regards to over 40 pieces of jewellery involving the spouse of an MP that was described as a VVIP.
In the middle of last year, Lebanon-based jewellery firm Global Royalty Trading SAL filed a suit against Datin Seri Rosmah Mansor, wife of the former Prime Minister Datuk Seri Najib Razak, demanding the return of over 44 pieces of jewellery sent to her for viewing purposes or to pay in full the price of the items at US$14.79 million (around RM60 million).
Rosmah contended the jewellery was seized by the police when they raided the former premier's house in relation to a corruption probe last year.
Rosmah is said to own a 22-carat pink diamond pendant worth US$27 million which Najib said in an interview last year was a gift from Prince Sheikh Mansour, the brother of Abu Dhabi Crown Prince Sheikh Mohammed bin Zayed.