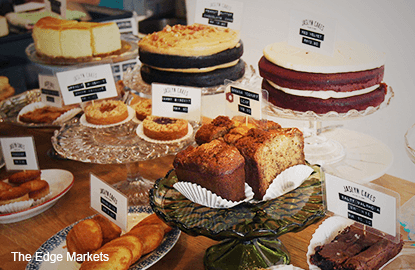 OVER the past year, the Klang Valley has seen a rise in specialised dessert cafes that are growing in popularity. The Bangsar area in particular has become a go-to place for an after lunch or dinner treat with a growing number of spaces offering a wide range of desserts to choose from. For the Instagram obsessed, these cafés also have well-furnished ambience that will make a great photo opportunity. From specialised cake stores to chocolate cafes, make your life that little bit sweeter by checking out these places for a meal. 
Jaslyn Cakes 
7A Jalan Telawi 2 
Bangsar Baru, KL 
11am to 7pm (Tues-Fri), 11am to 8pm (Sat-Sun) 
(03) 2202 2868 
www.jaslyncakes.com 
Started by Jaslyn Rangson, this cake shop produces cakes that are fresh, imaginative and yummy. The tiny cake shop occupies half a lot along Jalan Telawi 2, and has a cosy atmosphere with the smell of freshly-made cakes wafting throughout the café. The menu varies daily but you will be spoilt for choice with sweet rolls, pastries, chocolate truffles and lots of cakes on display. Popular favourites include madeleines, chocolate chip cookies, lemon bars and red velvet cake. Keep your eye out for classic cakes with a twist, such as vanilla bean cheesecake, coconut cream cake and earl grey chiffon cake. The cake shop emphasises on using unprocessed ingredients with organic flour, free-range eggs and no artificial flavourings going into all the cakes. Jaslyn Cakes also serves organic teas, coffee and freshly squeezed juices for drinks. Cakes can be specially made to order and can be picked up from the store. 
Casa Cacao 
31 Jalan Telawi 3 
Bangsar Baru, KL 
11am to 12am (Sun-Thurs), 11am to 1am (Fri) 
(03) 2201 1282
Meaning cocoa house, this café is every chocolate lover's dream. Originally from Australia, this dessert café is the first outpost in Malaysia. Chocolate is obviously the main star of the menu with delectable treats such as praline crepes, chocolate chip pancakes and Belgian waffles with chocolate served. The chocolate lava cake with soft salted egg yolk centre is a customer favourite, thanks to the unusual twist on a much-loved classic. As a one-stop shop for chocoholics, Casa Cacao also serves up chocolate beverages, such as hot chocolate, toffee milk chocolate frappe and spicy mango iced chocolate. Coffee is also available on its own or with a dose of chocolate. With the well-received reception of this café, there are plans to open a second Casa Cacao in November. 
Eat Me 
23 Jalan Telawi 2 
Bangsar Baru, KL 
2pm to 11pm (Mon, Weds, Thurs) 
2pm to 12am (Fri-Sun) 
www.facebook.com/eatmedessert/ 
Started by the people who run Killer Gourmet Burgers, Eat Me is located just next to the popular burger joint. Serving artisanal desserts, Eat Me has a selection of tarts, pancakes, cake and churros. The Spanish churros are a big hit, and are served with either Belgian dark, milk chocolate, white chocolate or salted caramel. Another item on the menu worth trying out is the Shibuya honey bunch, which is a Japanese light and crusty thick toast topped off with ice cream, honey and cornflake milk clusters. This "little hole in the wall" dessert space also incorporates local flavours into the menu with the Le Chempedak waffle, which is served with cempedak sauce and ice cream, as well as the Belgian musang which is a fresh durian cake served with durian ice cream and chocolate fudge. Coffee and tea are also available on the menu. 
This article first appeared in digitaledge Daily, on August 13, 2015.