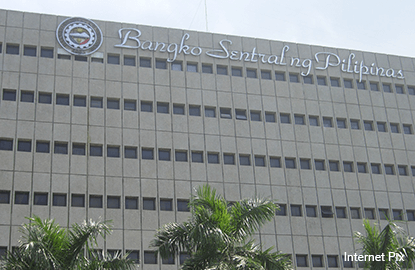 MANILA (March 22): The Philippine central bank is unlikely to pull the rate-hike trigger at its policy meeting on Thursday, but may signal its readiness to act soon to keep accelerating inflation in check.
The Southeast Asian economy grew faster than expected at the end of last year and consumer prices are expected to continue climbing this year. Inflation is being fuelled by strong domestic demand, abundant liquidity and a weak peso, strengthening the case for a less accommodative policy stance, economists say.
Nine out of 10 economists in a Reuters poll predicted the central bank would keep its overnight borrowing rate on hold at 3.0%. The lone dissenter called for a rate hike, which would be the first in 2-1/2 years.
Even if the Bangko Sentral ng Pilipinas stays on hold this week, some expect the next move to be a hike.
"If our base case materialises and BSP (central bank) stays on hold, we think the policy statement will become decisively more hawkish, which should set the stage for back-to-back policy rate hikes at the subsequent two meetings," Nomura said in a research note.
The central bank has two more meetings, in May and June, before the change in leadership at the monetary authority. Amando Tetangco will step down as governor in July after having served the maximum two six-year terms allowed under the law.
Nomura said the transition could be an impetus for carrying out policy tightening in May and June to ensure policymakers remain ahead of the curve.
The government is confident of hitting this year' 6.5%-7.5% growth target, after robust consumption and higher government spending helped spur growth in 2016 to a three-year high of 6.8%.
Annual inflation was 3.3% in February, the fastest pace in 27 months. While it remains within the central bank's comfort range, the rate has moved closer to the top end of its 2%-4% target.
"Demand-pull inflationary pressures remain prevalent in the economy. A gradual policy tightening is forthcoming," DBS said in a research note.
The Philippine central bank last raised rates by 25 basis points in September 2014 and it has not moved since then, with the country in a sweet spot of strong growth and manageable inflation.
Tetangco said last week he saw no reason to alter policy settings, following the widely-expected move by the U.S. Federal Reserve to raise interest rates, describing inflation as "well-behaved."