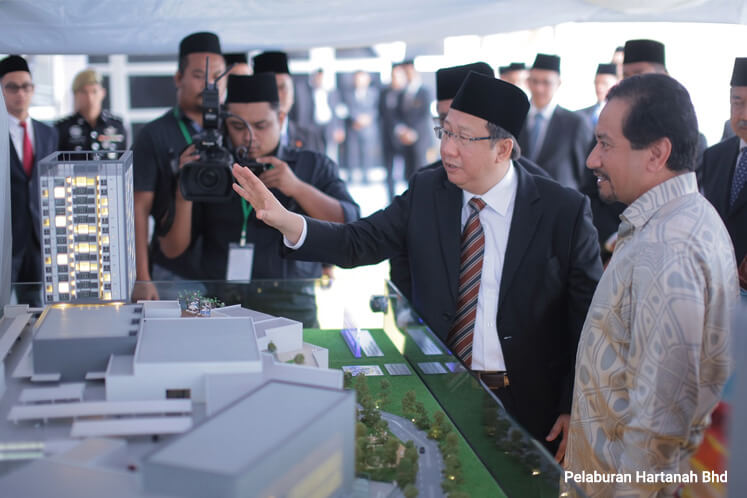 PETALING JAYA (April 4): The real estate arm and wholly-owned subsidiary of Yayasan Amanah Hartanah Bumiputera (YAHB), Pelaburan Hartanah Bhd (PHB) has officially launched Mayang Mall in Kuala Terengganu. The mall will be completed by 2020 and managed by Sogo KL.
The ground breaking ceremony yesterday was graced by Duli Yang Maha Mulia Al-Wathiqu Billah Sultan Mizan Zainal Abidin Ibni AlMarhum Sultan Mahmud Al-Muktafi Billah Shah His Royal Highness Sultan of Terengganu, Chief Minister of Terengganu Datuk Seri Haji Ahmad Razif Abdul Rahman, Terengganu state executive councillor members, PHB chairman Tan Sri Md Nor Yusof with group managing director and CEO of PHB Datuk Kamalul Arifin Othman.
The event also witnessed the signing of the Development Agreement and Leasing Agreement of Mayang Mall between PHB and Sogo (KL) Department Store Sdn Bhd.
Sogo KL, the anchor tenant, has been appointed to manage the mall operations so that the right retail mix according to the requirements of local residents and tourists alike can be achieved for the first full-fledged modern shopping mall in the East Coast of Peninsular Malaysia.
The 10.8-acre site is located at Jalan Sultan Zainal Abidin, the heart of Kuala Terengganu, which is also the state's administrative and commercial hub, bordering the Kuala Terengganu City Centre, making it a viable property investment with high investment potential.
PHB said the mixed-use development will be launched in two phases. Phase 1 will comprise a 15-storey serviced apartment block and Mayang Mall, which will have a net lettable area of 715,000 sq ft. Phase 2 will be a 16-storey hotel. The gross development value of the entire development is about RM900 million.
There will be 300 retail units available at Mayang Mall for tenants comprising fashion outlets, a cinema, supermarket, wellness centre, food and beverage stalls, bookstore, a food court and other services.
"This is a significant occasion especially since this year has been declared Visit Terengganu Year 2017.
"It reflects the seriousness of the state government, not just to attract investors and increase the economic status of the state, but also its goal to add to the many attractions available in Terengganu.
"I was also informed that Mayang Mall will provide about 3,000 employment opportunities to the people of Terengganu," said Ahmad Razif, adding that the construction of a drawbridge and East Coast Highway 2 (LPT2) would improve connectivity of the site to commercial hubs within and outside Terengganu.
At the ground breaking ceremony, Kamalul said: "This year, after marking our presence in the Klang Valley and South of Peninsular Malaysia, PHB's participation in the development of Terengganu is a strategy to strengthen our footing in commercial hubs across the country.
"We truly believe the development of Mayang Mall will further create a valuable asset to our company's growing portfolio resulting in the progress of our company and stable rental income that benefits our Amanah Hartanah Bumiputera (AHB) investors."
In August 2015, PHB entered into a Sale and Purchase Agreement with the State Government of Terengganu and the state government agency Lembaga Tabung Amanah Warisan Negeri Terengganu to acquire a parcel of commercial land in Kuala Terengganu.
With the agreement signed, the signatories acknowledged that the Terengganu State Government will alienate the land to PHB, approved for the mixed commercial development.