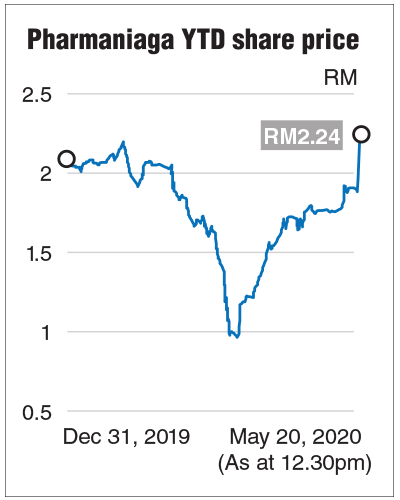 KUALA LUMPUR (May 20): Pharmaniaga Bhd's share price jumped as much as 15% shortly after the opening bell amidst robust earnings forecasts by analysts.
Analysts covering the counter have lifted their earnings forecasts for Pharmaniaga, after the company posted a stronger-than-expected net profit of RM22.4 million for the quarter ended March 31, 2020 (1QFY20).
MIDF Research appears to be among the optimistic ones. It has revised the pharmaceutical company's earnings forecasts by 74.6% for the financial year ending Dec 31, 2020 (FY20) and 61.3% for FY21 after the pharmaceutical company released its first-quarter results yesterday.
MIDF Research, which has raised its target price to RM3.16 from RM2.35, anticipates Pharmaniaga to generate an annual net profit of RM79.9 million for FY20 and RM82.6 million for FY21. This translates into earnings per share (EPS) forecasts of 30.5 sen for FY20 and 31.6 sen for FY21. 
Pharmaniaga posted a net loss of RM149.22 million for FY19 due to the recognition of remaining RM247 million unamortised pharmacy information system (PhIS), a system invested by the company in the government concession agreement. In addition, there was a provision for stock write-off on the voluntary Ranitidine product recall of RM9 million, which contributed to the FY19 annual losses.
MIDF's robust earnings forecasts hinge on the group's stronger sales momentum in view of the Covid-19 pandemic situation, lower amortisation rate as PhIS costs have been fully amortised and growing revenue contribution from the Indonesian division.
Commenting on its 1QFY20 earnings figures, MIDF Research said Pharmaniaga's 1QFY20 earnings posted RM22.4 million, which was above its and market consensus' FY20 earnings estimates at 49.4% and 51.2%, respectively.
MIDF believes that Pharmaniaga's valuation is attractive as it is currently trading at a forward price-earnings ratio (PER) of less than 10 times (-1.5 standard deviation below its three-year historical PER average) with an attractive FY21 dividend yield of 9.2%.
CGS-CIMB Research, which is also recommending the stock to its clients with a target price of RM2.20, has raised its FY20 to FY22 EPS forecasts by 12.5% to 14.2% as well.
CGS-CIMB is anticipating Pharmaniaga to achieve EPS of 19 sen for FY20 and 22 sen for FY21.
The higher EPS projections are based on expectations of a modest increase in logistics and distribution (L&D) segment margin assumption and lower effective tax rate assumptions to 28% from 35% previously.
"As the Covid-19 outbreak is resulting in an influx of treatment activities at government medical facilities, we expect Pharmaniaga's L&D activities, and consequently sales, to pick up in 2QFY20F, which represents the peak period of domestic Covid-19 infections," it said.
Nonetheless, CGS-CIMB gathered that there could be higher operational costs due to higher instances of urgent fulfillments to meet the needs of government hospitals, which could put pressure on L&D segment Ebit (earnings before interest and tax) margins for 2QFY20.
Over at Kenanga Research, it has revised its earnings forecasts upward by 27% for FY20 and 23% for FY21 on higher-than-expected sales volume. However, the research outfit has maintained an "underperform" call for Pharmaniaga, with a higher target price of RM1.35, from 90 sen previously.
The research house has cautioned that the company's earnings visibility pattern is cloudy after Dec 31, 2021 when the concession extension expires. 
To recap, Pharmaniaga in November last year secured a contract extension from the Ministry of Health (MoH) to supply medicine and medical supplies to MoH facilities for an interim period of 25 months, from Dec 1, 2019 to Dec 31, 2021.
At noon break, the counter extended its rally by surging as much as 20.7% or 39 sen at RM2.27, before paring gains at RM2.24, giving it a market capitalisation of RM556.42 million. There were some 4.18 million shares traded.