This article first appeared in The Edge Financial Daily, on October 21, 2019.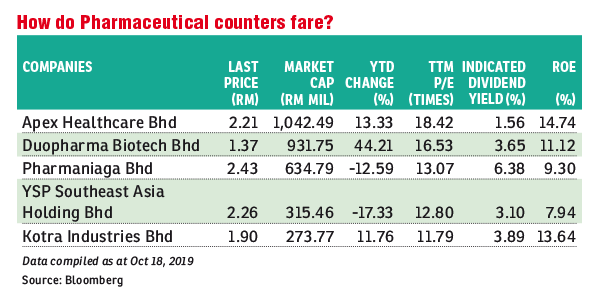 KUALA LUMPUR: Amid global growth this year expected to be at its slowest in a decade — with economists warning of an increasing risk that it would lead to a recession next year — pharmaceutical companies listed on Bursa Malaysia appear resilient.
According to Areca Capital Sdn Bhd chief executive officer Danny Wong Teck Meng, the sector remains attractive because other sectors are not as defensive in comparison.
Likewise, Phillip Capital Management Sdn Bhd chief investment officer Ang Kok Heng reckoned pharmaceutical stocks are "always a good buy", noting the industry is growing in line with greater healthcare awareness, while the population ages.
"When you're sick, you'll need pharmaceutical care. It does not matter whether the economy is good or not. It is fairly recession-proof and defensive in nature," he said.
Most analysts and fund managers contacted by The Edge Financial Daily shared the view that pharmaceuticals, just like most healthcare stocks, enjoy resilient demand for their services and products, thus making them good defensive equity options amid uncertainties.
Of the five pharmaceutical companies listed on Bursa — namely Apex Healthcare Bhd, Duopharma Biotech Bhd, Pharmaniaga Bhd, YSP Southeast Asia Holding Bhd and Kotra Industries Bhd listed on Bursa — three of them have climbed since January this year, with double-digit growth.
Year to date (YTD), Duopharma Biotech leads with a 44.21% surge to close at RM1.37 last Friday, followed by Apex Healthcare (13.33%) and Kotra Industries (11.76%).
Pharmaniaga has fallen 12.59% YTD to RM2.43, after the government announced it is relooking its contract with the company on concerns about an alleged drug provision monopoly's effects on public healthcare costs.
Pharmaniaga dismissed claims that it is monopolising the supply of medicines to the health ministry (MoH), saying only 33% of the ministry's supplies come from the group.
It is also "very confident" that its 10-year concession agreement with the government, slated to end this November, will be renewed, despite analysts continuing to highlight the risks of a contrary development.
However, if the non-renewal happens, it could give an opportunity for other pharmaceutical companies, a potential catalyst for others in the sector, analysts said. In short, one man's loss will be another's gain.
Meanwhile, YSP's share price has declined 17.33% YTD to RM2.26, following two quarters of lacklustre earnings.
However, as at end-August, Affin Hwang Investment Bank Bhd's Chua Yi Jing still kept a "buy" call on the stock with an unchanged target price of RM3, saying he continued to like it for its defensive businesss.
This was despite its core net profit slipping 39% year-on-year for the second quarter ended June 30, 2019, mainly due to start-up expenses for its new equipment and a weakening ringgit against the US dollar.
"The weak performance was in line with our expectations. With most of the equipment in production and running more efficiently, we expect the margin to improve gradually," he said.
"We believe the undemanding valuation and reasonable dividend yields [of 3% to 4% per annum] offer a minimal risk for investors to ride on its earnings improvement," Chua added.
'Not entirely recession-proof'
While pharmaceuticals tend to see resilient demand, iFast Capital Sdn Bhd assistant research manager Tan Wei Yine said economic uncertainties have led to reduced affordability, resulting in individuals and corporates lessening or postponing their healthcare spending to gird against an extended economic downturn.
This, in his view, will drive down demand for pharmaceutical products and supplements.
"However, it is important to note the medical industry has managed to grow during the times when many other sectors saw revenues plummeting, particularly cyclical sectors. So, in a relative sense, healthcare spending is less prone to a recession's impact, but not entirely recession-proof," Tan said.
In terms of valuations, Tan reckoned the five Bursa-listed pharmaceuticals are now trading at a slight premium compared with their historical ratios, though he also observed they have lower absolute price-earnings figures compared with their regional counterparts'.
For Ang, the five are reasonably priced, adding that their price-earnings ratios (PERs) have always been in the mid-teens range.
A quick check on Bloomberg shows the five have PERs of between 11 times and 18 times (see chart).
'Higher policy risks'
Investors considering exposure to the healthcare or pharmaceutical sector should bear in mind the sector may be exposed to higher policy risks, particularly in times of elections or following a shift in the political regime, said Tan.
For example, the Malaysian cabinet, in May this year, gave its approval to the MoH to regulate medicine prices, with the aim of curbing expensive patented drugs and make treatments more affordable.
The MoH is currently working with the domestic trade and consumer affairs ministry to gazette the relevant regulations under the Price Control and Anti-Profiteering Act 2011, though a fixed timeline has not been set for these regulations to be gazetted.
If the proposals are gazetted, MIDF Research analyst Nabil Fikri Zainoodin reckoned the pharmaceutical industry will be heavily impacted.
"With the implementation of a ceiling price for medicines, it could mean pharmaceutical companies' profit margins will come under pressure. Due to this risk, we do not think the industry can still be considered a defensive sector," he said.
However, given the scope of medicines under review, it is unlikely for the exercise to be concluded anytime soon, said Nabil.
"Besides, this will not have a major impact on Pharmaniaga and Duopharma given that both are producing affordable generic medicines," he added.