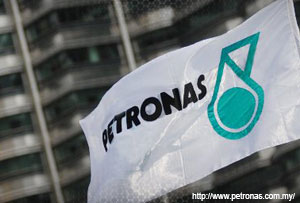 KUALA LUMPUR (Nov 23): Petroliam Nasional Bhd (Petronas), which contributes to almost 40% of the national coffer, is urging the government to 'tighten its belt' as the national oil firm is facing the possibility of less earnings in light of the falling crude oil prices.
 
Petronas President & Group CEO Tan Sri Shamsul Azhar Abbas believes that the price range of Brent crude oil at US$70 to US$75 may be a 'new era', until the end of next year, if not for the next two years.
 
Based on the new oil price assumptions, Shamsul said Petronas is looking to cut as much as 15%-20% of its capital expenditure (capex) budget for next year.
 
Shamsul also called on the government to be prudent on its spending as the state oil firm has to safeguard its growth plans.
 
"If we are to maintain our dividend contribution or higher, it would significantly impact our growth plans," said the chieftain at Petronas' third quarter results briefing today.
 
"We would need to channel most of our income into capex. This means we have to be disciplined in our cash management, including our dividend policy," he said. 
 
"It is prudent for all parties, especially the government, to relook and rebalance the budget policy against this backdrop.
"If the oil price is to remain at the current level, it would mean a much lower revenue contribution (from Petronas) to the government. Lower oil price will affect the amount tax and royalty to the government," Shamsul added.
 
In view of the low crude oil price, Shamsul said Petronas will not dish out new risk sharing contracts (RSCs) unless the prices of oil climb above US$80 per barrel.
 
He said companies that have plans to venture into marginal oil fields can "keep on dreaming". "At this point in time, at the level of above US$65, we are okay. But below that, it is bad," he added.
 
Petronas' pre-tax profit fell 12% to RM22.8 billion in the third quarter ended Sept 30, 2014 (3QFY14), against RM25.9 billion in the previous corresponding quarter.
 
Its revenue also slipped 1% to RM80.4 billion from RM81.4 billion last year.
 
Petronas' Executive Vice President and Group CFO Datuk George Ratilal explained that the lower third quarter performance came on lower crude price, unfavourable exchange rate, and lower liquefied natural gas (LNG) sales volume.
 
Meanwhile, going forward, Shamsul expects Petronas to report 'considerably lower' earnings in the fourth quarter compared with the preceding third quarter.
 
On Petronas' final investment decision (FID) on the LNG export terminal in British Columbia, Canada, Shamsul reiterated that the state oil firm will announce its decision by year end.
 
"It is still too early to approve the FID," he said.