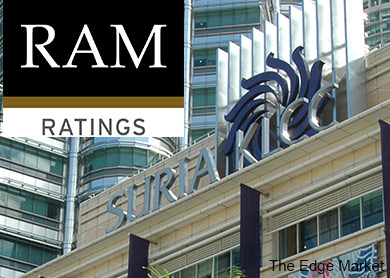 KUALA LUMPUR (Nov 21): KLCC Property Holdings Bhd (KLCCP) unit Suria KLCC Sdn Bhd plans to raise up to RM600 million via Islamic bond schemes, according to RAM Ratings Services Bhd
In a note today, RAM said it had assigned preliminary ratings of AAA/Stable/P1 to Suria KLCC's sukuk murabahah programmes. National oil company Petroliam Nasional Bhd (Petronas) owns 75.47% in KLCCP.
RAM expects Suria KLCC's near-term debt obligations to be refinanced through the sukuk murabahah programmes. The schemes comprise an Ijarah commercial papers programme of up to RM300 million and a proposed Islamic medium term notes programme of up to RM600 million.
Both schemes have a combined limit of RM600 million, according to RAM.
"Post-refinancing, the company's (Suria KLCC) funding structure will largely comprise fixed-rate financial obligations, entirely unsecured and with debts maturing over the medium to long term," it said.
RAM said it took into consideration the parental support from KLCC Holdings Sdn Bhd (KLCCH) in determining the preliminary ratings for Suria KLCC.
RAM said the Suria KLCC's shopping mall is a prime real estate investment of the group, accounting for about a third of KLCCP's revenue and assets.
RAM said Suria KLCC's credit profile was supported by the unrivalled location of its mall within the prime Kuala Lumpur City Centre.
"This gives the mall a large population base that stands above those of the other malls in KL. Along with its fairly diverse retail mix, the mall has been able to maintain almost full occupancy in the last 5 years while its rental rates are at a premium over its competitors'," said RAM.
However, Suria KLCC's high degree of asset- and geographical-concentration risk has constrained its ratings, RAM said.