This article first appeared in The Edge Malaysia Weekly, on December 16, 2019 - December 22, 2019.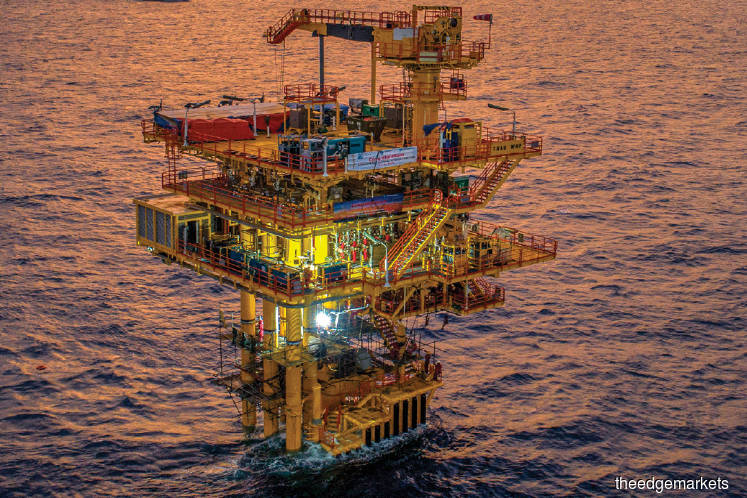 The risk of a marginal field becoming uneconomically viable is usually higher.
PETROLIAM Nasional Bhd (Petronas) has launched a new licensing round for four marginal field clusters, with the bidding process open from October 2019 to May 2020, according to the national oil firm's Activity Outlook 2020-2022.
Described as discovered resources opportunities (DRO) clusters, they are the Diwangsa and Rhu-Ara shallow water clusters located off the shores of Peninsular Malaysia, and the Kerisi and Bambazon clusters located offshore Sabah.
The Diwangsa cluster comprises four fields about 275km off the shores of Kemaman, Terengganu, while the Rhu-Ara cluster comprises two fields 150km from the shores of Pahang.
The Kerisi cluster, 115km from the shores of Sabah, contains four fields with water depths averaging 1,200m to 1,500m. The Bambazon cluster comprises two shallow water fields around 20km offshore northwest Sabah.
It has been six years since the national oil firm shelved the development of marginal oilfields in the country.
In 2013, it opened its third risk-service contract (RSC) licensing round involving 10 marginal fields. At the time, Petronas formed its own unit, Vestigo Petroleum Sdn Bhd, to focus on the venture. Crude oil prices were above US$100 per barrel then, which made the development of marginal fields commercially viable.
In a nutshell, a marginal field is deemed as "stranded" and the risk of it becoming uneconomically viable is usually higher. Its development cost tends to be higher compared with conventional oilfields and the per unit cost could be substantially higher.
It has been reported that for such a field to be economically viable, the breakeven price has to be slightly above US$60/bbl relative to the barrel of oil raised — although some contractors have argued that it could be lower, depending on the geological structure of the oilfield.
Crude oil prices have bounced back from below US$30 in 2016 to their current range of US$50 to US$65 per barrel. Still, the price is far below the peak of US$100 in 2014.
Thus, that Petronas is relooking at developing marginal oilfields has raised some eyebrows.
The prolonged oil price crash of 2014 to 2016 was deemed to have reduced the industry's appetite for such ventures.
Brent has averaged at US$64/bbl this year, and Petronas has benchmarked its oil price for working assumption at US$55/bbl for next year, although market watchers are expecting prices to rise to the "new norm" of US$70/bbl in the long run.
Meanwhile, it is unclear what model Petronas will deploy to develop the marginal fields this time around.
Under the RSC structure — awarded in 2011 — Petronas took on the development risk, with contractors reimbursed for the capital expenditure incurred during the undertaking.
However, there were scant details on the terms of each RSC that Petronas signed with the respective companies.
To recap, two RSCs ceased in 2016. One was a joint venture (JV) between Dialog Group Bhd, Roc Oil Co Ltd and Petronas Carigali Sdn Bhd, which was reimbursed US$10 million by Petronas for the capex spent.
The other was a JV involving Kencana Petroleum Bhd and SapuraCrest Petroleum Bhd (both companies later merged, with the merged entity now known as Sapura Energy Bhd) together with Petrofac Ltd.
Petronas' Vestigo took over the Berantai RSC from the Sapura JV.
Four local RSCs of the 2013 licensing round actually struck oil. They are the JV between Petra Energy Bhd and Coastal Energy Co; Uzma Bhd and EnQuest Plc; and Scomi Energy Services Bhd, Octanex Pte Ltd and Vestigo.
Vestigo also undertook its own RSC without a partner at the Tembikai field, off the shores of Terengganu, and struck oil in 2015.
All said, there was one instance when a Malaysian marginal field ended up becoming a major find.
In 2013, a JV of Petronas Carigali Sdn Bhd developed the Cendor marginal field offshore Peninsular Malaysia, which turned out to be one of the biggest oilfields in Malaysia, according to Petronas.
Apart from the four marginal clusters, Petronas had also opened eight exploration blocks coupled with four discoveries for bidding — PM326 offshore Kelantan, PM416 and PM524 offshore Terengganu, PM417 offshore Pahang, as well as SB2T, SB408, SB414 and SB410 offshore and onshore Sabah.
Subsequently, Petronas also opened three late life assets (LLA) technical studies for bidding, namely the Tembungo field in Sabah, and two groups in Terengganu — the Malong-Sotong-Anding or MASA fields, and the Bujang, Inas, Sepat, Guling and Tujoh or BIGST fields.