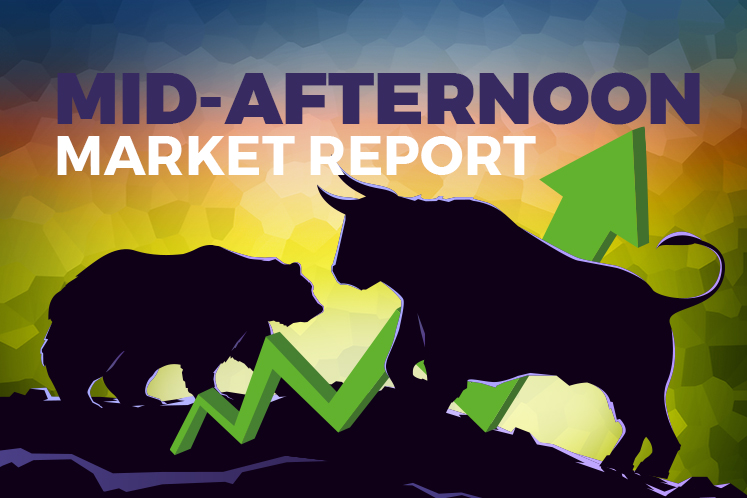 KUALA LUMPUR (April 14): Bursa Malaysia resumed the afternoon session firmer thanks to the strong buying momentum in index-linked counters, led by Petronas Chemicals, as well as positive regional sentiments following better-than-expected China trade data for March.
At 3.05pm, key index FTSE Bursa Malaysia KLCI (FBM KLCI) rose 15.05 points or 1.11% to 1,371.08 from 1,356.03 at Monday's close.
Petronas Chemicals had surged 32 sen to RM5.14 with 3.21 million shares changing hands, lifting the composite index by a substantial 4.66 points.
Other significant contributors include Maybank, Tenaga, MAHB and Press Metal.
Strong interest was also seen in the small-capitalisation stocks with the FBM Small Cap Index jumping 316.35 points to 11,158.84.
The overall market breadth was bullish with advancers trouncing losers 629 to 191, while 284 counters were unchanged, 801 untraded and 19 others suspended.
Turnover stood at 2.91 billion shares worth RM1.26 million.
Of the heavyweights, Maybank gained nine sen to RM7.54, Tenaga rose 14 sen to RM12.18, CIMB bagged five sen to RM3.55, while Public Bank, IHH Healthcare and Maxis trimmed two sen each to RM15.82, RM5.09 and RM5.27 respectively.
Among the actives, Lambo added one sen to two sen, Vortex and Velesto inched up half-a-sen each to nine sen and 16 sen respectively, while Minetech gained 1.5 sen to 24.5 sen.
On the index board, the FBM Emas Index was 128.16 points stronger at 9,486.2, the FBM ACE soared 213.47 points to 4,224.48, the FBM Emas Shariah Index chalked up 146.86 points to 10,478.45, the FBMT 100 Index advanced 123.69 points to 9,382.04 and the FBM 70 climbed 232.75 points to 11,127.38.
Sector-wise, the Industrial Products and Services Index edged up 3.82 points to 112.69, the Financial Services Index increased 109.53 points to 12,337.71 and the Plantation Index appreciated 33.71 points to 6,238.51.