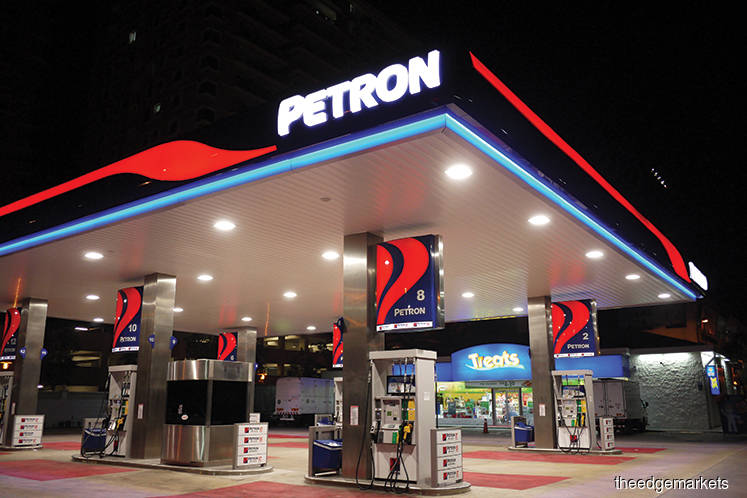 KUALA LUMPUR (Feb 22): Shares in Petron Malaysia Refining and Marketing Bhd dropped by as much as 61 sen or 8.14% this morning on the back of its first quarterly loss since 2014.
As of 11:23am, the counter fell to RM6.88, with 890,400 shares traded. Yesterday, the counter closed at RM7.49.
This is well below the counter's one-year peak of RM11.65 on Feb 22, 2018, constituting a decrease 40.94%, albeit still above the stock's one-year low of RM6.06 on Dec 18, 2018.
The counter's Bloomberg consensus price stands at RM5.60, with analysts holding one hold call and one sell call for the stock.
The sell call's target price (TP) stands at RM5.61, while its hold call's TP is at RM5.60.
theedgemarkets.com reported yesterday that the group had posted a fourth quarter ended Dec 31, 2018 (4QFY18) loss of RM25.55 million, from RM99.57 million profit posted a year ago.
The group said its 4QFY18 loss was attributed to inventory holding losses resulting from a sharp fall in prices of finished products as crude oil price dropped towards the end of 2018.
Quarterly revenue rose 2.2% year-on-year to RM2.89 billion from RM2.83 billion, on the back of higher oil prices; however, this was moderated by a 5% drop in total sales volume.
It cited that its overall volume sold in 4Q18 had shrunk to 8.6 million barrels, as compared to the 9.1 million barrels sold over the same period in 2017 due to lower exports.
The group also highlighted its production of export products Low Sulfur Waxy Residue (LSWR) and Naphtha at the Port Dickson Refinery were lower as the plant underwent scheduled maintenance in October.
For the full financial year ended Dec 31, 2018 (FY18), Petron's net profit slid 44.6% to RM224.54 million from RM405.17 million in FY17, despite a 16.2% growth in revenue to RM12.05 billion from RM10.36 billion.
The group said growth in revenue was largely driven by higher prices and moderate growth in sales volume, which grew 2% from 34.9 million barrels in 2017 to 35.5 million barrels in 2018.