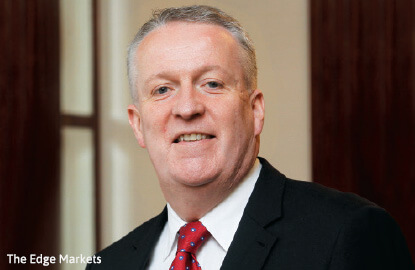 KUALA LUMPUR (July 8): Being at the helm of Malaysia Airlines Bhd is probably the toughest job one could have in the aviation industry at the moment, according to the very person who has just taken over that very position, Peter Bellew.
In his first media interview as the carrier's chief executive officer (CEO), Bellew told Irish Independent that restructuring Malaysia Airlines will be "the biggest turnaround" in the history of aviation.
"It's probably the toughest job you could have in aviation at the moment. I don't think any other carrier will have ever come from where Malaysia Airlines has been. In three or four years, people will look back, and think 'wow'. It's nice to be part of that," he told the Irish news portal.
Malaysia Airlines has been in the red since 2011. Its sole shareholder Khazanah Nasional Bhd injected RM6 billion into the beleaguered airline and introduced a 12-point restructuring plan in 2014 to revive the company, which included a delisting, after which it plans to re-list the entity by 2019.
To execute the plan, Khazanah appointed Christoph Mueller, who is known to have turned the Irish carrier Aer Lingus around, as Malaysia Airlines CEO in May 2015.
But in April this year, Mueller abruptly announced he was quitting his job. Then last week (June 30), Khazanah announced Bellew, who joined the airline shortly after Mueller as its chief operations officer, would be taking over.
Since joining the airline, Bellew said he found that Malaysia Airlines has great talent. "The depth of experience among people here is better than what you would see in most carriers in Europe. I think the airline just required a bit more leadership in the short term," he said.
Under Mueller, 6,000 people were axed from the airline's 20,000-strong workforce, while the number of suppliers was cut from 20,000 to 4,000. The final tranche of those 6,000 workers left the airline last Friday (July 1).
"It doesn't help the atmosphere, but we're getting on with it. We're starting to see green shoots of success. Staff can see that we've had to take the difficult steps and that it's starting to work out," Bellew said.
In February this year, Malaysia Airlines posted its first net profit in years. "The first quarter went well. The second quarter is trickier (because of Ramadan), but we're generally on track. We forecast a loss for the year, but it will be less than we anticipated," Bellew said.
The Irish news portal also reported that Bellew insisted he had not encountered any difficulties just because he is from outside the country and is helping to run a company to which there is, or has been, intense national pride attached.
"I haven't experienced any of that. People couldn't have been more welcoming. It's an extremely sophisticated country," he said.
Moving forward, Bellew stressed that the emphasis remains being the airline of choice in Asia.
"Our business to Japan, China, Korea and Taiwan is very strong. I think that's what we'll be looking to capitalise on. We've invested a huge amount of money in upgrading food, the whole fleet is being deep-cleaned, punctuality has improved and we're not losing as many bags," he said.
"There're still lots to do. The big focus will be on the commercial and sales structure, managing the costs and keeping them down. That's our biggest challenge now," he said.
The plan, he maintains, is to get Malaysia Airlines to the stock market in 2019. "After that, I think I'll be trying to head back to the green pastures of Ireland," he added.