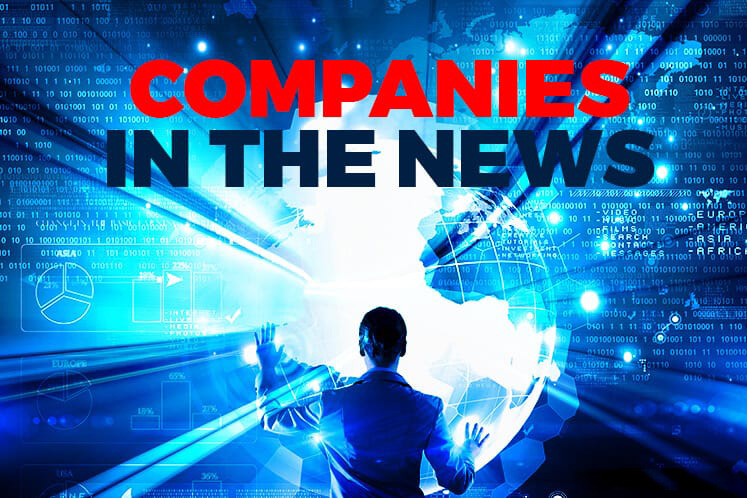 KUALA LUMPUR (Dec 19): Based on corporate announcements and news flow today, companies that may be in focus tomorrow (Dec 20) may include the following: Pestech, AAX, CCM, G3 Global, Vertice, Techfast, Analabs and Pentamaster.
Pestech International Bhd said its wholly-owned Cambodian unit, Pestech Cambodia Ltd (PCL), has executed a contract agreement worth US$26 million (RM106.11 million), to develop two substations and double-circuit transmission line in Cambodia.
Under the deal, PCL will undertake to design, engineer, manufacture, install, test and commission the substations and transmission line.
The transmission line is a 115kV double circuit transmission line that will run from about 75km to 78km from Oddor Meanchey to Siem Reap, while the substations are: one 115/22kV substation in Oddor Meanchey, and one 230/22kV substation in Bek Chan (Porsenchey).
The Oddor Meanchey transmission line and substation are expected to be completed in 18 months, while the Bek Chan substation should be completed in 24 months.
AirAsia X Bhd (AAX) has appointed Wong Mee Yen as its chief financial officer with effect from Jan 1, replacing outgoing CFO Cheok Huei Shian, who had led the AAX finance team since February 2015.
Cheok, who is leaving AAX to pursue personal interests, will stay with the company till the end of December to ensure a smooth transition.
Chemical Company of Malaysia Bhd said wholly-owned CCM Polymers Sdn Bhd is buying an office-cum-factory in Bandar Baru Bangi for RM20.8 million, in anticipation of growing market demand.
The property is on leasehold land measuring 7,969 sq metres, and it comes with a double-storey office-cum-factory, and an annexed single-storey factory, as well as all its fixtures and fittings.
It will fund the purchase via external borrowings and internal funds on an equal basis.
G3 Global Bhd, formerly known as Yen Global Bhd, plans to sell its two loss-making units in the apparel business — Evatech Sdn Bhd and Uni Jeans Care Sdn Bhd to Jelapang Subur Sdn Bhd — for RM11.25 million and RM1.73 million respectively, or RM12.98 million in all.
The company is expected to make a gain of RM4.7 million from the proposed sale of Evatech, and a loss of RM480,582 from the proposed sale of Uni Jeans.
G3 Global said the proposed disposals will provide additional working capital to the group's existing business as well as improve the group's liquidity and cash flow position.
Vertice Bhd, formerly known as Voir Holdings Bhd, plans to place out up to 30% of its share base to independent third party investors to be identified, to raise up to RM62.79 million, mainly to fund its construction project and for working capital.
The placement will involve up to 61.56 million new Vertice shares at an issue price to be fixed.
The placement may be implemented in one or more tranches, within six months after securing approval from Bursa Securities.
Techfast Holdings Bhd has signed a five-year deal to source chemical products from a China-based chemical firm Tecore Synchem Inc and resell them to its customers.
Its wholly-owned subsidiaries Cape Technology Sdn Bhd and Oriem Technology Sdn Bhd will be Tecore's Malaysian business partners to engage in the supply and sale of Tecore's products, including clear epoxy molding compound and silicone phosphor film.
Techfast said Cape and Oriem will sell these products to its customers, which are multinational companies that engage in the LED business.
The agreement also covers the sale of products to contract manufacturers of the two customers located in Malaysia and overseas, including China and Taiwan.
The group said Cape and Oriem's services also include product evaluation testing, customer demand information collation and customer supply chain co-ordination on behalf of Tecore as its local business partners.
Analabs Resources Bhd's second quarter net profit fell 53.6% to RM1.62 million or 2.88 sen per share, from RM3.48 million or 6.2 sen per share a year ago, mainly due to higher operating expenses incurred in both the recovery and sale of recycled products and manufacturing, formulation and sale of resin, chemical and building materials.
Revenue for the quarter ended Oct 31, 2017 declined 11.5% to RM34.61 million, from RM39.11 million previously.
The group proposed a first interim dividend of one sen per share to be paid on a date to be fixed later.
Pentamaster Corp Bhd has redesignated its executive chairman Chuah Choon Bin to non-executive chairman, while its independent and non-executive director Sim Seng Loong, 50, and executive director Gan Pei Joo, 41, have both resigned.
The company explained that the resignations are due to the board's restructuring in preparation for the proposed listing of the company's automated solution business through Pentamaster International Ltd on the Main Board of the Stock Exchange of Hong Kong Ltd.
Meanwhile, Lee Kean Cheong, an independent and non-executive director of Teo Guan Lee Corp Bhd and Petrol One Resources Bhd, has been appointed as Pentamaster's independent and non-executive director.