This article first appeared in The Edge Malaysia Weekly, on July 22, 2019 - July 28, 2019.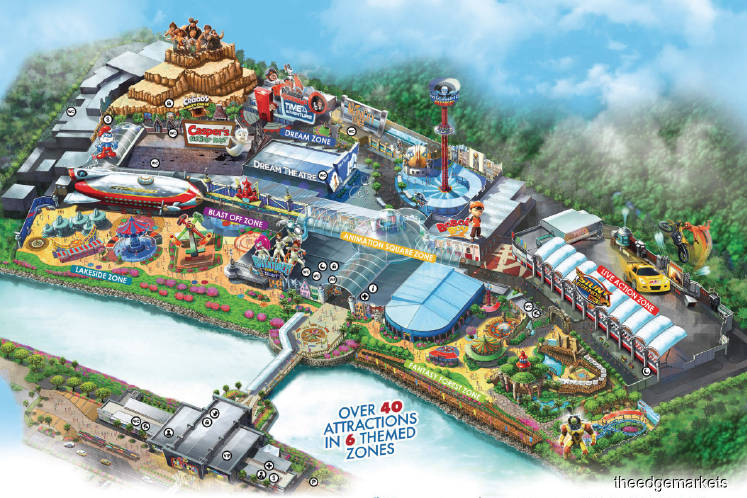 An artist's impression of MAPS. Billed as Southeast Asia's first animation theme park, it was to have over 40 attractions in six themed zones.
LOSS-MAKING Perak Corp Bhd is mulling over a plan to dispose of its 51% stake in Animation Theme Park Sdn Bhd (ATP), the operator of the floundering Movie Animation Park Studios (MAPS), according to sources.
State agency Perbadanan Kemajuan Negeri Perak (PKNP) could be a potential buyer of Perak Corp's controlling stake in the debt-ridden ATP, the sources tell The Edge. Given that PKNP is the controlling shareholder of Perak Corp, the potential disposal of ATP is essentially a transfer of assets — or rather liabilities at this point — from Perak Corp to its parent company.
"Perak Corp is talking to the state arm PKNP to take over the theme park. It seems the Perak government intends to rescue them [Perak Corp]," a source tells The Edge.
"The management of Perak Corp had mentioned this [the possible sale of ATP to PKNP] briefly to its shareholders at the annual general meeting last month. But no price tag was mentioned," says a minority shareholder who attended the meeting.
PKNP, the key state agency entrusted with spearheading the economic development and socioeconomic growth of Perak, is the largest shareholder of Perak Corp with 52.9% equity interest, followed by Sime Darby Property Bhd with a 6.13% direct stake.
"MAPS is up for sale. At the same time, we are also open to a partnership with any potential investor. It really depends on the offer," says another source with a state government agency.
Still, attracting decent offers for the drastically underperforming asset could be a stretch. Billed as Asia's first animation theme park with over 40 attractions — including 23 interactive features and 15 thrill rides — in six thematic zones, MAPS was built on a 21ha site in Ipoh. According to its website, MAPS was built at a cost of RM520 million. But media reports say, though  its initial building cost was pegged at RM390 million, it subsequently ballooned to RM607 million.
At the time, Perak Corp had a bullish — some would say totally unrealistic — target of attracting one million visitors in its first year of operation after the full opening of MAPS.
Its projection was based on the theme park being licensed to use the intellectual property rights for a number of prominent characters from American animation studio DreamWorks Animation LLC, such as Smurfs, Mr Peabody and Sherman, as well as Casper the Friendly Ghost.
Unfortunately, The Dream Zone, where DreamWorks' attractions were to be located, was delayed a number of times and ultimately never materialised as the agreement lapsed in August last year. As a result, MAPS opened its doors to the public on June 26, 2017, without the key attractions. Not surprisingly, visitor numbers have fallen short of the forecast by a mile — so much so that Perak Corp declined to reveal the numbers to shareholders at last month's AGM.
In truth, the decision by Bursa Malaysia-listed Perak Corp, which also owns and operates the Lumut Maritime Terminal, to undertake the ambitious project is inexplicable as it was strongly advised against it, particularly as it could have utilised the funds more productively in an area within its competence.
Following Pakatan Harapan's unexpected triumph in the general election in May last year at the federal and state levels, the new administration revealed the extent of losses at MAPS, whose development was driven by the previous Barisan Nasional state government, even though it had been repeatedly cautioned against it over concerns that it would likely become a white elephant.
Based on the negligible numbers, MAPS has indeed turned into an expensive white pachyderm, resulting in ATP bleeding to the tune of RM364.72 million in 2017 as losses swelled from RM20.14 million in 2016. As at Dec 31, 2017, its accumulated losses stood at RM422.53 million, while its net liabilities amounted to RM380.14 million.
Its parent, Perak Corp, posted a massive loss before tax of RM147.2 million in its financial year ended Dec 31, 2018 (FY2018), and RM320.1 million in FY2017.
"Their port business is fairly stable and profit-making, but the theme park is killing them. In fact, the management of Perak Corp has admitted to its shareholders that MAPS is burning about RM5 million every month," says a corporate observer.
If PKNP does not step in, Perak Corp's shareholders will continue to shoulder ATP's losses. By buying over ATP, the state agency will give Perak Corp a reprieve but it will shift the full burden onto the taxpayers.
ATP — the developer, owner and operator of MAPS — is a joint venture between PCB Development Sdn Bhd, RSG MAPS Sdn Bhd and Ramelle Ashram Ramli.
A check with the Companies Commission of Malaysia (SSM) shows that ATP is 51% controlled by PCB Development, a wholly-owned subsidiary of the listed Perak Corp and the developer of Bandar Meru Raya City in Ipoh.
RSG MAPS, a firm specialising in developing theme parks, themed attractions and integrated developments, is the second largest shareholder of ATP with a 39.82% stake. Ramelle Ashram, 41, the son of former Perak chief minister Tan Sri Ramli Ngah Talib, owns the remaining 9.18% stake.
RSG MAPS, previously known as Sanderson Project Development (M) Sdn Bhd, is jointly owned by Calgary Global Group Ltd (69.27%), Stephen Allan Sanderson (11.49%), Peter Joseph Sanderson (0.04%) and Ramelle Ashram (19.19%).
Stephen Sanderson and Ramelle Ashram are directors of ATP.
Ramelle plans to exit
Interestingly, when contacted by The Edge, Ramelle reveals his intention to also offload his shares in ATP. "I have verbally offered my shares for sale to PCB Development and Sanderson. As for your question [on whether Perak Corp is selling its stake in ATP to PKNP], it is best you ask Perak Corp or PKNP directly," he says in a brief WhatsApp message.
At press time, Perak Corp and PKNP had not responded to a request for comment.
The asking price for Perak Corp's 51% stake in ATP is not known. But given the parlous state of MAPS, what is more important for the buyer is that it may have to assume ATP's total liabilities of more than RM650 million.
"Perak Corp is trying to sell MAPS. But there are no potential buyers so far. For RM650 million, you can build four theme parks of that size. Why buy it?" a senior executive of a local theme park points out.
"The transfer of ownership will not solve the problem overnight. But at the very least, it could immediately stop the bleeding of the listed company — Perak Corp," he adds.
In a move to reduce operating costs, and taking into consideration there are not many visitors during the daytime, MAPS changed its operating hours to 4pm to 11pm from Monday to Thursday from July 1. From Friday to Sunday and on school and public holidays, it is open from 10am to 11pm. It is closed on Wednesdays.
In March, MAPS introduced a new business model — visitors can enter the theme park for free and only pay for the rides and attractions they patronise.