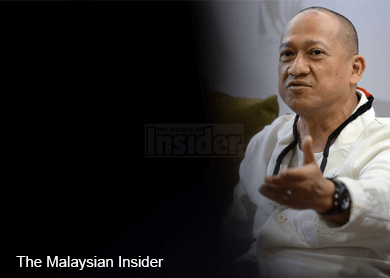 (June 16): The spat over a member of the royalty's right to comment on political matters continued today, with minister Datuk Seri Nazri Aziz declaring that he was an elected representative, in contrast to Johor Crown Prince Tunku Ismail Sultan Ibrahim.
The Star Online reported Nazri, who is Tourism and Culture Minister, telling reporters in Sekinchan today that he was elected by his constituents to serve them, and this allowed him to speak on behalf of the people.
"The difference between us is that I was elected by the people. If I do not carry out my duties then the rakyat will punish me in due time.
"I have to face the people's court every five years but God willing, I have been judged five times and I won," The Star Online quoted Nazri as saying.
Nazri, who is also an Umno Supreme Council member, had been asked to respond to Tunku Ismail's latest statement, posted on Facebook last night, that the prince had only been voicing out the people's sentiments.
Tunku Ismail had said, "When I voice out, I do it as the leader of my rakyat, on behalf of Johoreans and Malaysians. All I did is to remind the leaders of the country that they have a responsibility to serve the people, and for this, I am attacked".
The prince had also reminded Nazri that he "was a minister, not a God from the heavens who can lord over every body".
This is the latest round in the spat between the royal and Nazri, over the prince's June 5 statement implying that Prime Minister Datuk Seri Najib Razak had shirked his responsibility by not appearing at the "Nothing2Hide" dialogue on 1Malaysia Development Bhd (1MDB) the same day.
It led Nazri to warn the prince against commenting on politics, lest he risk getting "whacked". Nazri said members of the royal family were above politics and should not interfere, given Malaysia's constitutional monarchy.
Tunku Ismail then responded with a video of himself, silently gesturing a welcome to the challenge.
Nazri is now under police investigations for sedition following his criticism of the Johor royal, Inspector-General of Police Tan Sri Khalid Abu Bakar had said.
The former law minister then told The Malaysian Insider that there was no fairness when it came to commenting on members of royal households.
"When the Johor prince attacked Datuk Seri Najib Razak, nothing could be done to him as he was protected by the Sedition Act. But when I defended Najib, I am hauled up. Now you know it is not a level playing field," he had said.
Today, Nazri said Tunku Ismail had taken sides when he criticised Najib over the Nothing2Hide forum.
"It means he has taken sides and judged him. In fact, no one in this country is wrong until proven in court," The Star Online quoted the minister as saying.
"That is why I think that the royalty should stay above politics, as practiced in the Westminster system," he added.
Adding that he was willing to be investigated and would cooperate, Nazri also said he was not bothered with being called "kurang ajar" (disrespectful) towards the royalty.
"At the end of the day, my constituents are my only concern. That is why I am a wakil rakyat for five terms.
"We subscribe to democracy and people can say whatever they want about me. But don't get mad when I rebuke because I too have the right to say my views. Be fair," he was quoted as saying. – The Malaysian Insider