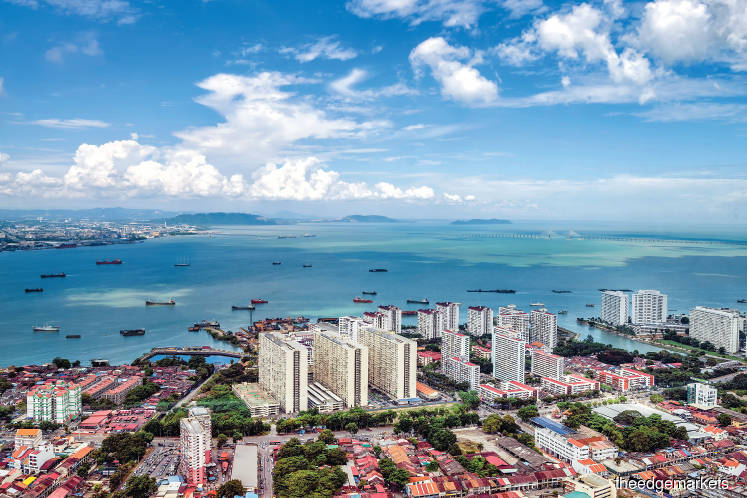 An increase in transactions has been seen in both the primary and secondary residential property markets in Penang this year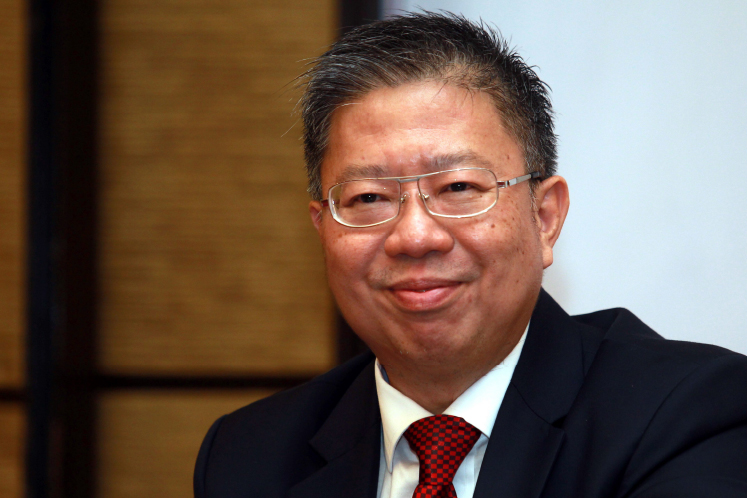 Geh: We expect the number of international property house buyers to increase this year. Photo by Suhaimi Yusuf/The Edge
In the last quarter of 2019, property developers in Penang were busy with roadshows and exhibitions to promote their projects in Hong Kong while trying to sell as many of their products as possible under the Home Ownership Campaign, which ended on Dec 31.
Raine & Horne International Zaki + Partners Sdn Bhd senior partner Michael Geh tells City & Country that there was a rise in the number of Hong Kong homebuyers in Penang in the last six months.
"They favour properties with a sea view [and] have snapped up properties facing Gurney Drive — in both the primary and secondary markets, as well as existing condominiums facing the Straits Quay Marina," he says in presenting the Penang Housing Property Monitor 4Q2019.
"We expect the number of international property house buyers to increase this year. The uncertainties in the Middle East will also result in more people coming to live in Malaysia."
While the phenomenon of Hong Kong citizens purchasing properties in Penang is not new, the recent spike in the number of house buyers from Hong Kong has been attributed to the ongoing protests in Hong Kong, apart from the prevailing problems of soaring flat prices and high costs of living in the Special Administrative Region.
Infrastructure projects to be launched
The Penang Transport Master Plan (PTMP) is an ongoing RM46 billion project that entails the construction of an undersea tunnel connecting the island to the mainland, highways, light rail transit (LRT), monorail and a comprehensive bus network between the island and Seberang Perai.
Chief Minister Chow Kon Yeow was recently quoted as saying that the Penang government regards 2020 as an important year for the state, as several local infrastructure projects will take off in the next 12 months.
These projects include the Penang airport expansion, construction work on the redevelopment of the Swettenham Pier Cruise Terminal and package two of the PTMP.
SRS Consortium Sdn Bhd, the project delivery partner for the PTMP, will soon sign a new Project Delivery Partner agreement with the state government, says Gamuda Bhd group managing director Datuk Lin Yun Ling.
He was quoted as saying that, once the PDP agreement is signed, the design works can start. Gamuda is the controlling shareholder in SRS Consortium.
Meanwhile, during the quarter under review, the Penang government announced a competition to obtain design ideas for its plan to build artificial islands under the Penang South Reclamation (PSR) project.
Under the PSR project, the state government proposes to reclaim 1,821ha to build three islands south of the Penang International Airport to create a land bank to fund the PTMP.
In January, the state government shortlisted five teams, whose design submissions will be displayed in a public exhibition at the conclusion of the competition in April.
The five finalist teams are Bjarke Ingels Group (Denmark) with Hijjas Architect & Planner; Foster + Partners (UK) with GDP Architects Sdn Bhd; MVRDV (The Netherlands) with aLM Architects; Tekuma Frenchman Urban Design (US) with EOWON Architects; and UN Studio (the Netherlands) with Architects 61 Sdn Bhd.
Biggest oversupply is in Barat Daya
For 3Q2019, Geh notes that the district with the highest property overhang in Penang is Barat Daya in the southwest of Penang Island.
Its overhang stood at 40%, unsold under construction property at 37% as well as unsold not constructed property at 8%.
In Timur Laut in the northeast of Penang Island, the overhang was at 33%, unsold under construction property at 39% as well as unsold not constructed property at 87%.
In total, Penang had an overhang of 3,508 residential units in 3Q2019, with a total of 2,374 units, or 68%, being condominiums and apartments.
This is followed by 355 two to three-storey semi-detached house, 201 detached houses, 196 two to three-storey terraced houses, 195 flats, 89 townhouses and 86 low-cost flats.
There were 8,969 unsold under construction residential properties in Penang, with the majority being condominiums and apartments (8,012 units), followed by 2 to 3-storey terraced houses (449 units), low-cost flats (189 units) as well as 2 to 3-storey semi-detached houses (182 units).
There were 857 unsold not constructed residential properties in Penang, comprising 759 condominiums and apartments, 66 two to three-storey terraced houses and 32 townhouses.
Prices and rents remain flat According to the Penang Housing Property Monitor for 4Q2019, performance was flat quarter on quarter, as there was no movement in the housing prices and rents of the housing schemes sampled.
In fact, most schemes have seen no movement in prices and rents for more than four quarters.
Geh reckons a reason is that the schemes are mostly in mature areas.
Schemes that have seen movements in transacted prices in the past two years, albeit marginal, are 1-storey terraced houses (1,200 to 1,600 sq ft) in Seberang Perai Utara and Seberang Perai Selatan as well as 2-storey terraced houses (1,300 to 1,800 sq ft) in Seberang Perai Utara, Seberang Perai Tengah and Seberang Perai Selatan.
These schemes last saw a slight price increment in 4Q2019.
The semi-detached houses, detached houses and high-rise units have seen no movements annually across the board since 2016.