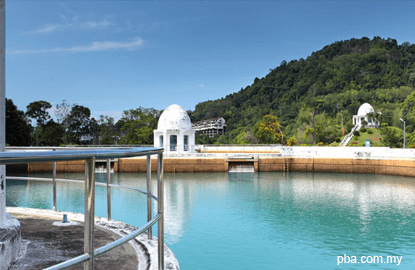 KUALA LUMPUR (Jan 13): As Penang braces for a "super El Nino" phenomenon, Perbadanan Bekalan Air Pulau Pinang Sdn Bhd (PBAPP) announced today that it has activated its water supply alert status, even though the supply capacities of Penang's two major dams are at "healthy levels".
In a statement, PBAPP and PBA Holdings Bhd's chief executive officer Datuk Jaseni Maidinsa said today that the water concessionaire has pledged to do whatever necessary to avoid water rationing "at all costs" in 2016.
"PBAPP has activated its water supply alert status, in view of the Meteorological Department's warning of a possible hot and dry "super El Nino" phenomenon," he said.
"Two years ago, during the extreme dry season in January, February and March 2014, the total rainfall was only 83mm at the Air Itam Dam, 70mm at the Teluk Bahang Dam and 115mm at the Mengkuang Dam.
"There is a possibility that we may experience a recurrence of the 2014 scenario, in the first three months of this year," he added.
He said as of today, the capacity of the Air Itam Dam stands at 87.6%, the Teluk Bahang Dam stands at 83.2%, while the water level at Sungai Muda is 2.53 metres today.
However, faced with a double threat of very little rainfall and daily temperatures soaring to 40 degrees Celsius, the water concessionaire expects lower water levels at Sungai Muda and higher rates of evaporation at Penang's dams.
"The prime directive from the Penang state government is clear: PBAPP will do whatever is necessary to avoid water rationing at all costs in 2016," he added.
He said if necessary, PBAPP is prepared to implement the water supply and water demand management initiatives that enabled Penang to avoid water rationing in 2014 and 2015.
"PBAPP is continuing to draw water as normal from Sungai Muda," he said.
"Nevertheless, we are monitoring the dams and Sungai Muda on a daily basis. We will brief the (Penang) state government and inform the public on Penang's water supply status regularly," he added.
Jaseni reminded Penang water consumers to reduce their daily water consumption by adopting water saving practices, saying that other states such as Selangor, Kuala Lumpur, Putrajaya, Negeri Sembilan and Johor had to implement water rationing in 2014 and 2015.
In February 2014, the Negeri Sembilan state government had declared a water crisis, after not receiving rain over two months, which caused the water level in seven dams to reach critical levels.
In 2014, the Sungai Selangor Dam — the main source of water supply in the country's most developed state Selangor — had plunged below the 40% critical level, resulting in a two-month long water rationing exercise, which began at the end of February.
It caused the disruption of water supply to some 2.2 million consumers in Selangor, Kuala Lumpur and Putrajaya.