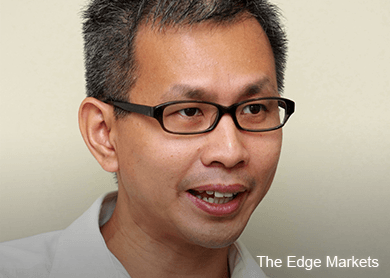 (June 9): An opposition lawmaker today asked if Malaysia had a "nincompoop" for a finance minister, after becoming peeved at the latest written reply from Datuk Seri Najib Razak on debt-laden 1Malaysia Development Berhad (1MDB).
Tony Pua (DAP-Petaling Jaya) said Najib had, for the third time in the current parliamentary sitting, refused to give direct answers to questions on the troubled state investment firm.
The two-term DAP lawmaker had asked why the finance minister had approved the US$1.9 billion loan from 1MDB to PetroSaudi International Limited's subsidiary with only a guarantee when PetroSaudi did not have a paid-up capital of more than US$150,000.
Pua also asked if the loan was approved by the then-board of directors.
In the written reply to Pua, Najib, who is finance minister, said based on the information given by 1MDB's management to the Finance Ministry, the loan was approved to reduce the risk compared to the equity holding in the joint-venture company.
Moreover, all decisions and transactions of 1MDB were made by the management and its board of directors, Najib added.
"I am shocked and horrified by the reply from Datuk Seri Najib Razak to my question in Parliament on May 28, 2015.
"The question really needs to be asked – do we have a nincompoop running our ministry of finance?
"If the reply provided by Datuk Seri Najib Razak is indeed a truthful and accurate reply, then Malaysians have no choice but to conclude that we don't only have a reckless finance minister lending such large sums of money, we have the stupidest and most unqualified finance minister in the history of Malaysia.
"What a nincompoop," Pua said at the Parliament lobby today.
Pua gave three reasons to justify calling Najib a nincompoop, saying that he had specifically asked for the minister's reply, but the written reply to him showed for the third time that the ministry had to defer to 1MDB's management for answers.
"Essentially, I had asked the finance minister why he approved the loans but he needed 1MDB to give him the reason he approved the loans.
"Am I to conclude that we have a nincompoop for a finance minister who doesn't even know why he approved the money to be lent to some foreign company and had to ask 1MDB to give the response?
"This is once again a clear-cut abdication of ministerial responsibility for fear that 1MDB's reply may be untruthful," he said, adding that Najib was the person who directly approved the US$1.9 billion loan to PetroSaudi International Limited's (PSI) subsidiary.
Pua, who is also a member of Parliament's Public Accounts Committee (PAC), said Najib's answer had defied business logic, and questioned how the loan would reduce any risk, especially when 1MDB would have no control over how the money would be spent.
Najib has been under attack over the Finance Ministry-owned investment vehicle, established in 2009, which has chalked up debts of up to RM42 billion, backed by Putrajaya.
The firm is now the subject of different probes by the auditor-general, PAC, Bank Negara and a joint investigation by police and the Malaysian Anti-Corruption Commission. – The Malaysian Insider