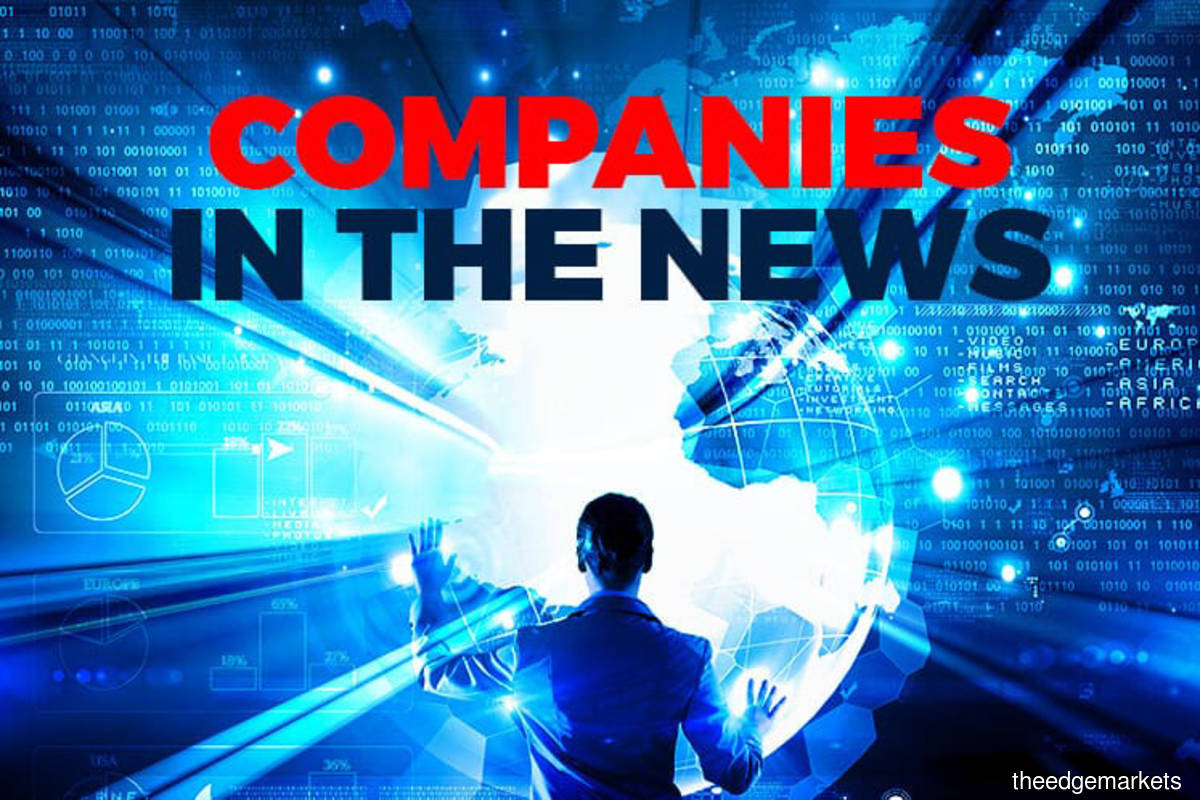 KUALA LUMPUR (Sept 28): Based on corporate announcements and news flow on Tuesday, companies in focus on Wednesday (Sept 29) may include: Pecca Group Bhd, Reservoir Link Energy Bhd, Daibochi Bhd, Hong Leong Bank Bhd (HLB), PCCS Group Bhd, Tenaga Nasional Bhd (TNB), NPC Resources Bhd, KNM Group Bhd, George Kent (Malaysia) Bhd, Malaysian Resources Corp Bhd (MRCB), MYEG Services Bhd, Boustead Plantations Bhd, Icon Offshore Bhd, AEON Credit Service (M) Bhd and Tropicana Corp Bhd.
Pecca Group Bhd said its board had resolved to declare an interim dividend via a share dividend distribution of treasury shares on the basis of one treasury share for every 41 existing shares held in respect of the financial year ending June 30, 2022. The car leather upholstery maker said in a bourse filing on Monday that the entitlement and share deposit dates of the dividend will be announced at a later date.
Energy-related services provider Reservoir Link Energy Bhd has secured a contract from Sarawak Shell Bhd/Sabah Shell Petroleum Company Ltd for the provision of slickline equipment and services. The group said that its wholly-owned subsidiary Reservoir Link Sdn Bhd has received a letter of award for the job. Under the contract, Reservoir Link will be the primary contractor providing slickline equipment and services for well completion activities which are rig assisted, and as a backup contractor for well interventions activities which are non-rig assisted.
Daibochi Bhd, which is in the midst of a takeover by parent Scientex Bhd, saw its net profit drop 20.8% to RM8.89 million in its fourth financial quarter ended July 31, 2021, from RM11.22 million a year ago, on lower revenue and higher operating costs. Quarterly revenue fell 14.2% to RM133.73 million from RM155.77 million.
Hong Leong Bank Bhd (HLB) expects Malaysia's economy to register a modest recovery this year, as spikes in Covid-19 infections and the reintroduction of movement restrictions moderate what was expected to be a strong recovery, said HLB chairman Tan Sri Quek Leng Chan. In a statement in the group's annual report, Quek however also highlighted that there is growing optimism that an acceleration in the vaccination roll-out and a more favourable external environment will help underpin a more sustained recovery next year. 
Apparel company PCCS Group Bhd is kicking off its hire purchase business this month with a RM5 million loan book and expecting this division to start contributing to the group's revenue in the current financial year ending March 31, 2022. PCCS' hire purchase business is based in Melaka and Johor.
Kumpulan Wang Persaraan (Diperbadankan) (KWAP) has raised its direct stake in Tenaga Nasional Bhd (TNB) to 6.71%, after the pension fund bought shares of the national utility in several tranches of one million shares each, following foreigners' emergence as net buyers of TNB shares for the first time in 21 months. KWAP's direct stake in TNB rose to 6.71%, comprising 384.17 million shares as of last Friday (Sept 24), after KWAP bought one million TNB shares each last Tuesday, Thursday and Friday (Sept 21, 23 and 24). KWAP also owned as of Sept 24, an indirect stake of 0.67%, comprising 38.34 million shares in TNB.
NPC Resources Bhd is withdrawing its offer to sell its Sabah oil palm plantation land to IOI Corp Bhd, as the company is unable to accept IOI Corp's revised purchase price for the assets. NPC said that the company is unable to accept the indicated revised purchase price for the proposed transactions and that NPC and IOI Corp will "discontinue further negotiations on the terms of the proposed transactions". In July, IOI Corp had offered to buy several parcels of oil palm plantation land located in Sabah's Labuk, Sugut, Kinabatangan and Beluran districts from NPC, and the deal was slated for completion by the first quarter of 2022, although the combined offer price of RM281.22 million for the assets had yet to be finalised.
KNM Group Bhd, which is involved in oil and gas equipment and services, has secured a contract worth RM13.4 million to build a pre-fabrication tank for a combined cycle power generating facility of up to 1,200MW at Pulau Indah, Selangor. KNM said the contract was awarded by PEC Powercon Sdn Bhd to its wholly-owned unit KNM Process Systems Sdn Bhd, which is expected to deliver the tank in 11 months. PEC Powercon is principally involved in building constructions.
George Kent (Malaysia) Bhd said it has accepted Malaysian Resources Corp Bhd's (MRCB's) RM53 million cash offer for its 50% stake in MRCB George Kent Sdn Bhd (MRCBGK). MRCBGK is a 50:50 joint venture (JV) company between MRCB and George Kent and is the turnkey contractor of the RM16.6 billion Light Rail Transit Line 3 (LRT3) project. MRCB offered to buy George Kent's stake, or sell its own 50% stake to George Kent, on Sept 14.
MY EG Services Bhd (MYEG) said its 40%-Philippines joint venture (JY) I-Pay MYEG Philippines Inc (MYEG Philippines) is rolling out two e-government services in the Philippines — the online payment of income tax to their Bureau of Internal Revenue, and the payment of fees to the Philippine Economic Zone Authority (PEZA). The online income tax payment will be made available on MYEG Philippines' online portal from October this year, MYEG said.
Boustead Plantations Bhd has proposed to sell Kulai Young Estate in Johor for RM429 million to YTL Power International Bhd's 70%-owned subsidiary SIPP Power Sdn Bhd. The group expects to realise an estimated RM323 million upon completion of the disposal of the 664ha of plantation land.
Icon Offshore Bhd said its subsidiary has secured a contract extension for the provision of its jack-up drilling rig involving works for four wells. This is an extension of the earlier contract for eight wells secured by the subsidiary Perisai Offshore Sdn Bhd in December 2020 from Petrofac Ltd.
AEON Credit Service (M) Bhd saw its net profit jump 45.7% to RM75.48 million for its second financial quarter ended Aug 31, 2021 (2QFY22) from RM51.81 million a year ago, on lower operating and interest expenses. Its operating expenses for the quarter fell to RM225.76 million in 2QFY22 from RM236.65 million in 2QFY21, mainly due to lower impairment losses on financing receivables of RM92.27 million, compared with RM112.01 million. Funding cost was also lower, mainly due to reduced borrowings and lower cost of funds.
Tropicana Corp Bhd sank into the red in the second quarter ended June 30, 2021 with a net loss of RM25.04 million, versus a net profit of RM24.29 million a year ago, on lower revenue due to the impact of the lockdown. The property developer said the net profit previously was helped by the recognition of gains arising from the sale of a freehold development land in Johor Bahru for RM241.8 million.