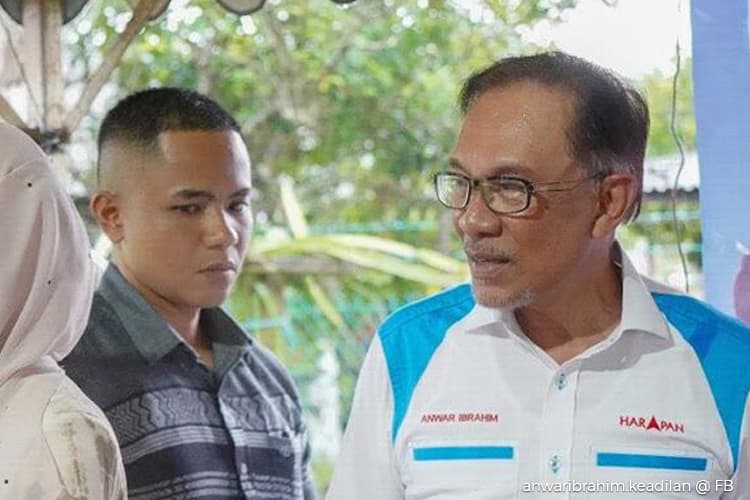 PORT DICKSON (Oct 13): Polling 31,016 votes, PKR president-elect Datuk Seri Anwar Ibrahim clinched a runaway victory in the Port Dickson parliamentary by-election tonight with a majority of 23,560, clearing the way for his re-entry into Parliament.
Anwar's majority well surpassed Datuk Danyal Balagopal Abdullah's 17,710-vote margin in the 14th general election despite a comparatively lower voter turnout. 
The voter turnout today was at 58.2%, with 598 spoilt votes, while 49 were unreturned. On May 9, 83.2% of the 75,770 voters had cast their ballots.
Anwar arrived at the counting centre about 8.55pm with his wife, Deputy Prime Minister Datuk Seri Wan Azizah Wan Ismail for the results announcement. 
Seeming calm and composed, he was seen celebrating the win with DAP adviser Lim Kit Siang and PKR secretary-genral Datuk Saifuddin Nasution immediately after the result was announced. 
Four of the other six candidates were not present during the announcement, namely former Felda chairman Tan Sri Mohd Isa Samad, Stevie Chan and Saiful Bukhari, who stood as independents and PAS' Mohd Nazari. 
Mohd Nazari came in second with 7,456 votes while Mohd Isa polled 4,230 votes. The lowest vote count was for Saiful who received 82 votes. 
The Port Dickson seat was left vacant by PKR's Datuk Danyal Balagopal Abdullah to make way for Anwar to re-enter the parliament.