This article first appeared in Personal Wealth, The Edge Malaysia Weekly, on December 25, 2017 - December 31, 2017.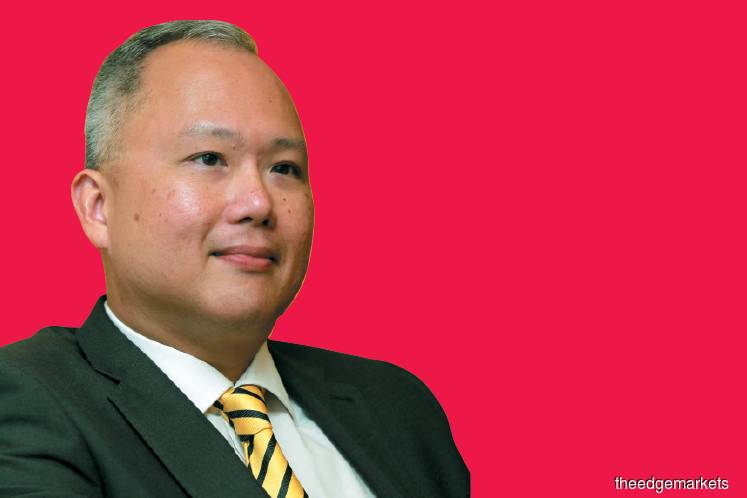 Having grown up in Perak in the 1960s, Danial recalls how he used to accompany his mother to Uncle Lim's sundry shop. He was always fascinated watching Uncle Lim tally up the sales and counting the change to be returned to customers.
On most days, Uncle Lim would rush off for a short while to the bank to deposit the takings from his sundry shop. Occasionally, he would tell his customers that he had to go to the post office to pay his bills or get a money order to mail to his daughter studying "far away" in Kuala Lumpur.
Life was pretty simple back then, although at times, Uncle Lim had to go out of his way to sort out his banking matters with regard to making payments or remittances.
Fast-track to 2017, and the revolution that the world of payments, banking and remittances has undergone would be unimaginable to Uncle Lim. In the 1970s, computerisation began to take hold in local banking institutions, followed by the introduction of automated teller machines (ATMs) in the early 1980s. Parallel to this development was the introduction of credit cards as a method of payment, which quickly became popular, given the convenience and benefits they offered.
With the onset of the World Wide Web, banking and payments took on a different form. Internet banking, which was first introduced to Malaysia in 2000, brought the bank to the customer, and from then on, banking transactions and payments could be carried out at the click of a button from one's home or office. There was little need to send cash physically or to make payments through a post office or over a bank counter.
Over the last few years, with the advent of smartphones, the banking and payment revolution has moved at an even faster pace. Now, we can just "wave" our cards or mobile phones containing our digital wallets to make a payment or simply key in codes to purchase goods. Cash remittances and payments can also be carried out via mobile phone numbers and social media platforms.
Notwithstanding the great strides in online and digital banking in Malaysia, the use of cash and card is, nevertheless, still prevalent in our society today. 
Efforts to go cardless/cashless, such as by using digital wallets on mobile phones or contactless card payments using the wave technology, have yet to create the desired pace because of, among other reasons, customer preference or lack of merchant support for these payment modes.
Electronic payments have so far also not been economical for small-value items, like buying a canned drink or nasi lemak, discouraging small businesses from adopting the mode of payment and, in turn, making it difficult for customers to use it. Some customers have started using peer-to-peer (P2P) payment transfers but these can be cumbersome to execute.
However, we cannot deny that a shift towards digital transactions has taken root and will continue to do so in the coming years.
According to Bank Negara Malaysia's report on Malaysia's payments statistics, mobile banking penetration in the country is currently less than 30%. But the good news is that transaction volume via this platform recorded a five-year compound annual growth rate of 122%. Internet banking penetration has reached close to 80%, although transaction volume only recorded a CAGR of 24% from 2011 to 2016.
With customers increasingly preferring mobile platforms, service providers have begun to emphasise digital banking and payment offerings. So, what does the coming year have in store for us?
In my view, we can expect to see a variety of new offerings and even more aggressive marketing and promotions on mobile payments. Payment convenience via Quick Response (QR) codes will begin to take hold and change the landscape, especially for small-ticket purchases.
There will also be other entrants, such as Touch 'n Go Digital, GrabPay and Fave, to name but a few, trying to take a bite at the payment pie. It will be interesting to watch the battle for consumers as more new names enter the market. At the same time, online payments will continue to grow and more customers will be persuaded to pay via their credit or debit card.
Together with these, there will be more intense efforts to create a friction-free experience for the customer and the merchant. We will most likely see further innovation in the use of biometrics for authentication within apps, the implementation of technologies such as artificial intelligence, cloud and big data, as well as open application programme interfaces that enable integration with third-party services. The customer and merchant ecosystems will be pulled closer, unlike now where the customer world is quite distinct from the merchant world.
With enhanced data mining capabilities afforded by new technologies, we can expect more attractive incentives for those who transact online. Banks will focus on creating streamlined processes for customers to transact or purchase banking products online and, hence, the user experience on digital platforms will continue to evolve and improve. This will also lead to greater price transparency, which will benefit customers.
It is important to note that the pace at which digital banking has progressed in the last few years has been proportionate to the level of comfort customers enjoy when transacting online. From conducting simple transactions (such as viewing balances, transferring funds and applying for fixed deposits) in the past, customers are now expecting more advanced capabilities delivered through a seamless user experience on a 24/7 basis, and with minimal effort.
However, maintaining customer confidence in digital platforms remains critical, given recent cyber attacks and data breaches. Hence, banks and service providers will need to invest enough in security to ensure continued customer confidence. We can expect better security features for transactions even as the fight for customers becomes more intense, in turn offering a greater level of confidence to consumers when transacting online.
Disruption will continue in the coming years, just as it has occurred over the last few decades, but at a brisker pace as technology advances rapidly. There is no doubt 2018 will be another exciting year where mobile banking and payments are concerned — with the clear winner, as always, being the customer. Uncle Lim would certainly be astounded!
---
Michael Foong is group chief strategy officer at Maybank Group