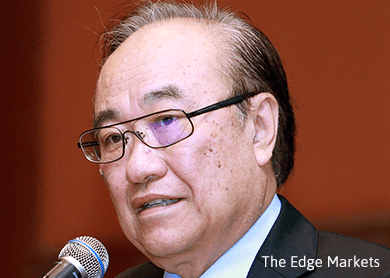 KUALA LUMPUR (Jan 6): The minister in charge of government integrity and anti-corruption efforts, Senator Datuk Paul Low, said he would defend the Malaysian Anti-Corruption Commission (MACC) from any interference amid talk that its chief commissioner would be replaced.
Low said it was his duty to speak up and safeguard the credibility and smooth operations of the MACC, and said he would even take up the matter with the prime minister if need be.
"As I have mentioned before… I see it as my job to protect an institution, such as the MACC.
"So if there are any changes made that undermine its independence and credibility, I will speak up against them.
"I will speak to anybody if it's necessary, including the PM," Low told The Malaysian Insider, in reference to Datuk Seri Najib Razak.
The Malaysian Insider reported that there has been talk about replacing MACC chief commissioner Tan Sri Abu Kassim Mohamed soon after he had handed over investigation papers to the attorney-general on probes into the RM2.6 billion donation channelled into Najib's personal bank accounts and Finance Ministry-owned firm SRC International Sdn Bhd.
A source said Abu Kassim's health might be used as an excuse to replace him.
Abu Kassim underwent surgery on Aug 7 to remedy a back problem and reported back to duty in the middle of October – a turbulent period for MACC which was targeted by the police for investigations into supposed information leaks pertaining to the two high-profile probes.
This followed the emergence of a purported charge sheet against the prime minister drawn up by MACC which was leaked to whistle-blower website Sarawak Report.
But Low said because MACC was an agency of the federal government, it was Putrajaya's job to protect and safeguard its public institutions.
"Whatever the rumour is, I think it is appropriate for me to say that the MACC needs to be protected from any interference whether in its operations or appointment of any personnel, especially if it is the chief commissioner.
"An institution like the MACC needs to have the trust of the public and must be credible," said the minister in the Prime Minister's Department.
MACC responded to news of Abu Kassim's rumoured replacement by affirming the chief commissioner's intention to stay on in the post, stressing that he would not bow to pressure from any quarter.
"Tan Sri Abu Kassim is holding to his stand that he will not resign due to pressure by any quarter, other than his own decision because of health reasons.
"For now, there is no pressure by any quarter for him to end his service with the MACC," the statement yesterday said.
His tenure as MACC chief ends in 2018, while his mandatory retirement from the civil service would be in 2020.
Abu Kassim has maintained that MACC's investigations into the RM2.6 billion as well as into SRC International have been independent.
Abu Kassim, who joined the Anti-Corruption Agency in 1984, which was renamed MACC in 2009, was appointed chief commissioner in January that year.
MACC recently said it has completed investigations into SRC International over a RM4 billion loan but that its probe into the RM2.6 billion had so far only managed to interview Malaysian witnesses.
The agency is still waiting for mutual legal assistance (MLA) from the A-G to obtain documents and statements from financial institutions and banks overseas.