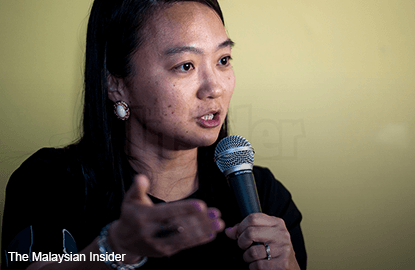 (Aug 19): Datuk Paul Low has diminished the value of government transparency, says Selangor Speaker Hannah Yeoh, after the minister yesterday said that executing the Freedom of Information (FOI) law was not feasible.
"It takes political will to enact the FOI legislation. Without it, you will get precisely what Low is talking about – excuses," Yeoh said in a statement today.
Low, the minister in charge of governance and integrity, said FOI was not feasible as the government and society had yet to learn how to manage and use information responsibly.
He added that executing the law would require additional resources and infrastructure.
But, Yeoh debunked the need for a change of culture in government and society.
"I offer a correction to the honourable minister's statement that what we need is not a change of culture in government, but a change of government itself.
"Selangor and Penang have shown the way to freedom of information. We are ready to show Low and this new cabinet of Datuk Seri Najib Razak, how we can do the same for Putrajaya," she added.
Only two states in Malaysia – Penang and Selangor – have legislation on freedom of information but this is restricted to matters under the state government's purview and comes with caveats.
Yeoh, who is also Subang Jaya assemblyman, said today it was appalling that despite a bloated Cabinet, there was no minister working on FOI.
On Low's remark that additional manpower was needed to implement FOI, she said Selangor was able to train information officers without spending much on allowances and training.
"We have a total of 41 information officers.
"Training did not cost the state government much, only RM4,362. Allowances for the Information Officers amounted to RM246,000," she said.
She added the Selangor government enacted FOI in 2011, which came into force in 2013 after its rules and regulations and appeals board were put in place.
The special select committee for competency, accountability and transparency (Selcat) was also set up to monitor its implementation and effectives. The panel conducted a public hearing in early 2015 and summoned all information officers to give an account.
She added that like other legislations, FOI had its shortcomings and periodically required tweaking, but Selcat was open to conduct a public hearing and made its findings available online.
Yeoh added that the report had been tabled, debated and passed in the state assembly in April this year. – The Malaysian Insider