This article first appeared in Personal Wealth, The Edge Malaysia Weekly, on December 31, 2018 - January 06, 2019.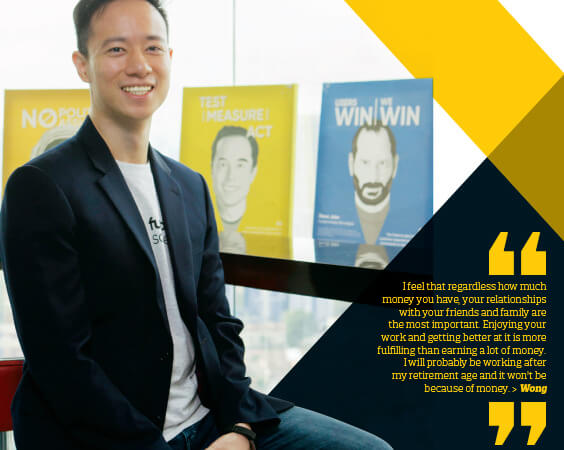 In 2016, Wong Kah Meng had already spent five years as a consultant at Oliver Wyman in Singapore, an international consulting firm that specialises in banking and financial services. The job paid well and offered good prospects, but he decided to resign and take a pay cut to join a start-up that was barely a year old as its CEO. "The job offer in Kuala Lumpur came with a big pay cut, even without taking into account the foreign exchange rate," he says.
That start-up was Funding Societies, a peer-to-peer (P2P) lending and financing firm that began its operations in Singapore. When the start-up's co-founder, Reynold Wijaya, invited Wong to join him in expanding the company's business to Malaysia that year, the latter accepted it without much hesitation.
Some of Wong's friends thought it was a bad idea, but he was willing to take the pay cut so that he could learn new things. "My perception of wealth is not wealth creation on a day-to-day basis. It is about doing what I like to do and seeing what I can learn and how I can grow from the challenges I will be taking on. The compensation for wealth should come as a result of this. That is partly why I was willing to take the pay cut," he says.
Wong had always wanted to own and drive a business instead of just doing consulting work. "As a consultant, you are more of an adviser and you do not get to make decisions or even get involved in the implementation of the ideas. I wanted some exposure to this. When I have a strategy, I want to implement it," he says.  
Also, it was the "right place, right time and right industry". Wong had been studying and working in Australia and Singapore for about a decade, but he had always wanted to settle down in Malaysia. The new job allowed him to do so.
At the time, the P2P lending and financing industry was growing fast in developed markets. But in Malaysia, it was just getting started and he saw much potential in it. "I knew I would regret it if I did not seize the opportunity," he says.
Working hard behind the scenes
Wong's decision turned out to be the right one. Just two years after taking the helm, Funding Societies Malaysia has become the largest P2P financing platform operator in terms of funds raised for small and medium enterprises (SMEs). In April, it raised US$25 million in its Series B funding round led by SoftBank Ventures Korea, and continues to expand its business locally.
Wong's team has grown from just four to 40 today. As CEO, he no longer deals with the day-to-day operational tasks. He has meetings with his employees every day to listen to their problems and provide them with guidance. He also makes important decisions that determine the direction of the company.
However, this was not the case two years ago, when Wong returned to Malaysia. To save money, he moved in with his parents in Klang and worked from home for almost a year. He did all the ground work himself, including setting up the new company and interviewing about 70 people. He ended up hiring three of them for his core team.
He would queue for hours at the bank to deposit salary payments. He also prepared and submitted the application documents for the licence to operate a P2P financing platform to the Securities Commission Malaysia (SC).
"When the business started operating, four of us — including me — worked at the dining table in my parents' house, and my bedroom was my office. It was only last year that we moved into a proper office [in Bangsar South, Kuala Lumpur] so that SME owners could visit us there," says Wong.
It was a long process, but he persevered and overcame the challenges he faced. "I don't think it is an experience I would have got if I had remained in the consulting industry. It was not easy and I have learnt a lot. Today, I am really enjoying what I am doing," says Wong.
Follow your passion
Wong believes that wealth is as a result of following one's passion and being good at what he or she does. He acquired this belief when he was just a child.
Wong grew up in a middle-class family in Melaka. His dad was an engineer and mom a housewife. They always gave him the flexibility to do what he liked and felt passionate about, instead of busily planning a future career that promised good money.
"They are pretty laissez-faire about such matters. They did not plan for me to become a doctor, lawyer or banker. This was never part of the conversation at all. When I completed my SPM, they said, 'Hey, this [course] looks like an interesting option. Are you interested?'
"This could be quite different from the folks in KL, where they tend to groom their children for a particular occupation. They may try to shape their children's résumé so that it looks good when their children apply for a particular job in the future.
"In my case, it was more like, 'Let's see how things go. If you can study [what you like], then go. If you cannot, then too bad."
Wong developed an interest in accounting and economics. He graduated with first class honours in actuarial studies and finance from the Australian National University. Then, he ventured into the financial services industry, just like he always wanted to. "Of course, the subject I was studying and the career I had chosen were quite conventional and did not cause them much of a headache," he jokes.
Wong's father set a good example of loving what you do and being good at it instead of prioritising the size of one's salary. "My dad is an engineer. He is very focused on his job and good at it. He tried retiring a few times, but failed. He is still working today. He helps a friend of his by looking at construction drawings and giving advice. He mostly does it for free now," says Wong.
"It has never been about money. It is the amount of experience he obtained through his job and being good at it that counts. This allowed him to earn more income in the later stage of his career.
"It is the same for me. It is not about choosing a job with a higher salary. Instead, it is more like doing what I know what I am interested in and will make sure to do my best. Again, the wealth, the income, will come in the later stage of my career and life."
High saving rate
Another reason Wong was not particularly worried about taking a pay cut was due to his frugal lifestyle. He has a rather high saving rate and does not spend a lot on leisure activities such as travelling and going to the gym. What he spends most on, though, is coffee as he tends to work long hours. "My saving rate is quite high and it should be sufficient to cover my expenses," he says.
Wong admits that it is only because he is too busy and preoccupied with work to spend money elsewhere. "I work from 9am to 2am on weekdays and half day on weekends."
He also attributes his frugal lifestyle to his upbringing. His parents have been saving money their whole lives so that their children would be able to afford better education. His mother still drives her old Proton Waja even though she can afford a better one.
"She used to drive another Proton until it was so old that it could not be driven anymore. Now, she is driving an old Proton Waja. She can afford a new Perodua Myvi, but she still prefers to drive the Waja," says Wong.
Due to his busy schedule, Wong has adopted a rather passive investing strategy and puts his money mainly in fixed deposits and exchange-traded funds (ETFs). "My main focus is my job. I do not have time to be an active investor. I also do not have such a large sum of money that I need to hire a professional wealth manager," he says.
However, Wong has increasingly put more money into P2P investing as he is part of the industry. "I am very close to how it works and I am very clear about what I am getting into. However, the portion of the money in ETFs and fixed deposits is still bigger than in P2P," he says.
Wong foresees maintaining the same habits even if he becomes wildy successful in the future.  In fact, he has maintained his lifestyle since his university days. "I experienced a big leap in monthly income when I was working with Oliver Wyman, but my lifestyle and attitude towards life had not changed much. It is pretty much the same today. And I don't think it will change in future," he says.