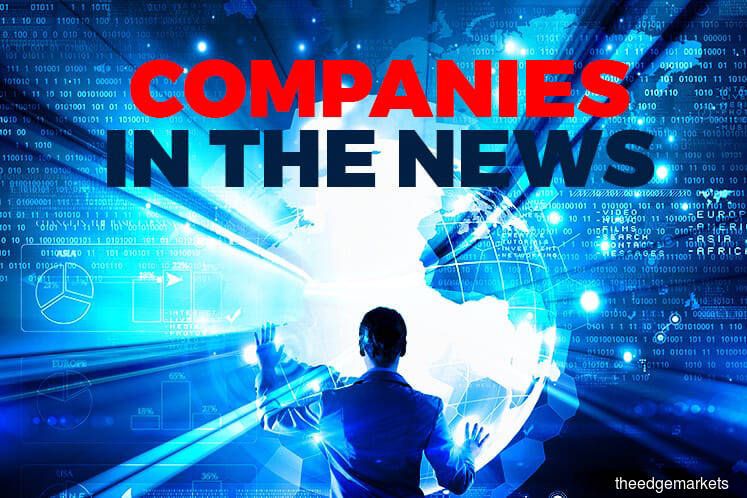 KUALA LUMPUR (July 3): Based on the corporate announcements and news flow today, companies in focus on Wednesday (July 4) may include: Pasdec, Damansara Realty, TM, Green Packet, Velesto, IHH, Versatile Creative, Sunway, Zelan, Multi Sports, Lion Industries and TH Heavy Engineering.
Pasdec Holdings Bhd's substantial shareholder Datuk Seri Tew Kim Thin has launched a bid to acquire 57.74% of the Kuantan-based property developer's shares, as well as 31.28% of its warrants.
Kim Thin, who is an executive director of Pasdec, has proposed to pay RM121.36 million or 52.5 sen per share for the remaining 231.16 million shares he does not own in the company, as well as RM357,900 or one sen per warrant for the remaining 35.79 million warrants in Pasdec.
Pasdec said it received a conditional mandatory takeover offer from Kim Thin today through his private investment vehicle Jasa Imani Sdn Bhd.
Kim Thin, who intends to maintain Pasdec's listing status, is deemed the ultimate offeror for the offer as he is the founder and major shareholder of Jasa Imani, in which he holds a 58.19% stake. Kim Thin's son Tew Liang Tze owns another 37.41% of Jasa Imani shares.
Damansara Realty Bhd has appointed its group chief executive officer (CEO) Brian Iskandar Zulkarim as executive director and group managing director with immediate effect.
Damansara Realty said Brian Iskandar, 44, has been holding his current post since Sept 1, 2016. He was responsible for the implementation of a strategic restructuring plan that returned the company to profitability in 2017 and brought its fourth straight quarter of profit in the first quarter ended March 31, 2018.
"Operationally, he has extensive experience in asset and facilities management, and airport planning and operations," Damansara Realty added.
"Brian Iskandar's appointment to the board will strongly support DBhd's (Damansara Realty) vision towards becoming the preferred assets and facilities management solutions provider," said its chairman Datuk Ahmad Zahri Jamil.
Telekom Malaysia Bhd (TM) has revised downwards its key performance indicators (KPIs) for 2018 amidst evolving market dynamics and a challenging operational environment.
TM's revenue growth was revised to a range of -1.0% to flat while earnings before interest and tax (EBIT) growth was set at about RM1 billion.
The original KPI for 2018 revenue growth was set at 3.5% to 4% while EBIT growth was expected to be maintained at 2017 level, which was about RM1.1 billion. Its customer satisfaction measure was also revised downwards to 72 from 74.
The group also announced the implementation of its performance improvement programme 2018, a continuation of its transformation journey, which is at its 4th wave.
Green Packet Bhd is partnering Hong Kong-based Funsea Entertainment Co Ltd to undertake the business related to offering digital contents such as games, movies and music to telecommunications operators or master content providers in Asean.
Green Packet group CEO and executive director Tan Kay Yen said the joint venture (JV) is a strategic decision by the group to deepen its involvement in content creation and distribution, particularly in Southeast Asia.
Green Packet said its wholly-owned subsidiary in Singapore, NGT Networks Pte Ltd, has entered into a JV agreement and shareholders agreement with Funsea for the purpose.
The total project cost for the business in Malaysia of RM3 million will be funded via shareholders' advance, proportionately. NGT will fund its investment sum of RM1.2 million via internal funds while the remaining RM1.8 million will be funded by Funsea.
Velesto Energy Bhd (VEB), formerly known as UMW Oil and Gas Corp Bhd, has bagged a US$31.04 million (RM126 million) offshore drilling services contract from ROC Oil (Sarawak) Sdn Bhd.
VEB said the contract was awarded to Velesto Drilling Sdn Bhd, which is wholly owned by VEB's subsidiary Velesto Malaysian Ventures Sdn Bhd (previously UMW Malaysian Ventures Sdn Bhd).
VEB, which is involved in offshore drilling and operations, and other engineering services for oil and gas exploration, development and production in Malaysia and overseas, will provide one jack-up drilling rig and associated services for ROC's D35 Phase 2 "infill drilling" programme.
IHH Healthcare Bhd, a unit of sovereign wealth fund Khazanah Nasional Bhd, has submitted a new binding offer to the board of directors of Fortis Healthcare Ltd to acquire the struggling Indian hospital chain and its affiliates.
Fortis had on May 29 initiated a fresh bidding process and invited selected bidders, including IHH, to submit fresh proposals. As such, the latest proposal supersedes and replaces the earlier ones by IHH.
In a Bursa Malaysia filing, IHH said it has today issued the offer letter to Fortis' board, which represents its only binding offer.
The group, however, did not provide any details about the size of its offer this time.
The board of directors of Versatile Creative Bhd has discovered financial irregularities arising from unauthorised payments to third parties between August 2017 and June 2018.
The board said the managing director and chief financial officer of Versatile have been suspended pending investigations by the forensic auditors.
Crowe Malaysia has been appointed by the board to carry out the forensic audit after Versatile chairman Datuk Lee Kwee Hiang lodged a police report.
Lee has been appointed as the acting managing director while Andy Yap Jee Whye will be the acting chief financial officer (CFO).
Sunway Bhd has established a new venture capital (VC) fund, Sun SEA Capital LP, with a proposed investment of US$5 million.
Sunway said the new VC fund and subsequent investment will enable the group to accelerate its digital transformation through investments into synergistic digital startups, and conduct external fundraising to grow the startups.
In a statement, Sunway said its wholly-owned subsidiary Sunway City Sdn Bhd has today signed an initial exempted limited partner agreement to set up the new VC fund.
"With the initial investment, Sun SEA Capital will seek to provide scalable startups in Malaysia, Thailand, Singapore, Indonesia, the Philippines, Vietnam and Hong Kong specialising in online-to-offline convergence, enterprise solutions, logistics, digital media/entertainment, financial technology and digital health sectors access to Series A investments worth US$1-3 million per ticket size," it added.
Zelan Bhd has appointed Kamaruddin Abd Karim as chief operating officer of the company.
In a bourse filing, Zelan said Kamaruddin, 58, has more than 30 years of experience in construction management.
He joined Zelan in 2009 and has held various positions within Zelan Group, including head of planning and monitoring, head of business development and general manager of special projects.
The Securities Commission Malaysia (SC) has reprimanded China-based Multi Sports Holdings Ltd for knowingly submitting false and misleading financial statements to the stock exchange regulator, which violated Sections 353 and 369 of the Capital Markets and Services Act (CMSA) 2007.
"As such, pursuant to Section 354(3)(c) of the CMSA, the SC reprimands Multi Sports, taking into account the fact that new directors have been appointed on the board and efforts are being made to regularise its operations and financial condition," said Multi Sports.
Under the CMSA, Section 353 deals with disclosure of information related to the dealing of securities, while Section 369 deals with false reports furnished to the SC, stock exchange or approved clearing houses.
Lion Industries Corp Bhd has proposed to acquire the flat steel assets including a manufacturing plant in Banting, Selangor from Megasteel Sdn Bhd for RM537.73 million, as part of its plans to expand into the flat steel business.
Lion Industries is currently involved in the manufacturing of long steel products comprising bars and wire rods, which are used in the construction, fabrication and manufacturing industries. It said the proposed acquisitions will widen its steel product base to include the manufacturing of flat steel products.
Lion Industries said the proposals are also part of a debt settlement scheme to be undertaken by Megasteel, with the lenders and creditors. Both Lion Industries and Megasteel have a common substantial shareholder in Tan Sri William Cheng.
Following his departure from Tabung Haji, Datuk Seri Johan Abdullah also relinquished his post as the non-independent and non-executive chairman of TH Heavy Engineering Bhd, where he was a nominee director of Tabung Haji, who controls the company with a 30.08% stake. At the same time, TH Heavy has redesignated CEO cum CFO Suhaimi Badrul Jamil as the company's CEO, effective today.