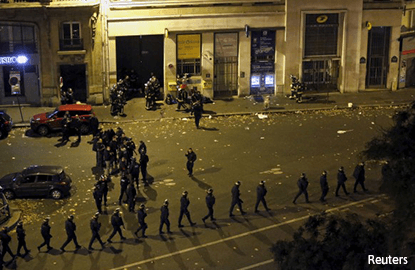 This article first appeared in The Edge Financial Daily, on November 16, 2015.
THE series of coordinated attacks on multiple civilian locations in Paris last Friday night has long been the stuff of nightmares for European security officials.
Ever since the Mumbai attacks of 2008 — in which more than 175 people, including the militants, were killed in a series of coordinated strikes around the city —- the fear has been of a similar attack in Europe by militants.
That assault showed that a relatively small number of dedicated, suicidal attackers with automatic weapons and sufficient ammunition could wreak havoc in a relatively confined urban area. In 2013, militants demonstrated the same thing again in Nairobi, Kenya, at the Westgate shopping mall — with a final death toll of 67.
Since Mumbai, where the hostage drama played out for three days, most security forces operate on a very simple doctrine — attempt to seize back buildings and kill the militants as quickly as possible, even with all the risks that entails.
Such attacks, of course, could theoretically take place anywhere. Indeed, the largest in Europe to date was the 2011 attack by lone Norwegian gunman Anders Breivik. He killed 69 people at a political youth camp on the island of Utoya after killing another eight with a bomb in the centre of Oslo.
France, though — and Paris in particular — was already seen as a likely top target, particularly after the attack on the offices of satirical magazine Charlie Hebdo less than a year ago.
Since major bombings such as the 2005 attacks on the London transport system and bombings in Madrid the previous year, law enforcement agencies have become more effective at detecting and blocking access to explosives. And since 9/11, attacks on aircraft have been much more difficult.
Despite avoiding the Iraq war and only playing a limited role in Afghanistan, France has taken a much greater role in recent conflicts such as the war in Libya and the fight against Islamic State and militant groups in its former colonies in West Africa.
Those actions — like the independence war in Algeria in the 1960s — were seen as pushing France dramatically up the militant target list. France also had issues with the integration of its Muslim population — something these attacks may exacerbate further.
The wider geopolitical fallout of the attacks is much harder to model.
If the attack does emerge to have been carried out by Islamic State, which has claimed responsibility, it will deliver the group a significant propaganda victory after a series of reverses, including the apparent death in a drone strike of Mohammed Emwazi, the British-born Islamic State executioner dubbed "Jihadi John."
The Paris assault has prompted France's President Francois Hollande to promise a strengthened effort to destroy the group. Whether that will mean a shift away from removing Syrian President Bashar al-Assad from power is another question, though. Russia — which lost a passenger plane carrying 224 passengers and crew to a suspected bomb on Oct 31 — will almost certainly argue the need for solidarity in fighting the militants, rather than targeting Assad.
At the very least, it will further complicate Europe's struggle to work out what to do with the ever-growing numbers of refugees from Middle East war zones.
Even if it wished to, the continent has little real option to stop the flow of the mostly Muslim migrants. Worries over a repeat of the Paris attack, however, could further intensify moves to shore up borders and act as the final nail in the coffin of the supposedly borderless nature of the European Union. — Reuters