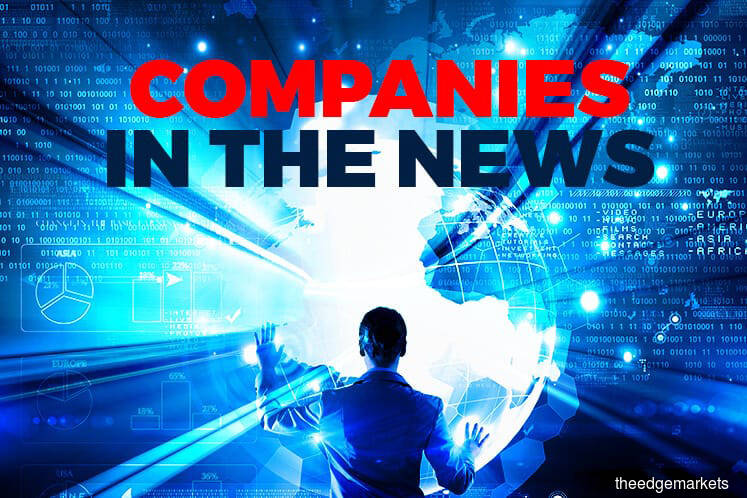 KUALA LUMPUR (Dec 22): Based on corporate announcements and news flow today, companies that may be in focus next Tuesday (Dec 26) may include: Paramount, CCM Duopharma, Ekovest, Knusford, Sentoria, Boustead, Kim Loong, TMC Life and NHF. 
Paramount Corp Bhd will construct four blocks of high rise residential buildings consisting of 1,600 units, including 20% affordable units, in Section 14 of Petaling Jaya, with a projected gross development value (GDV) of RM1 billion. 
Paramount said its wholly-owned subsidiary Aneka Sepakat Sdn Bhd has inked a development rights agreement with Kumpulan Hartanah Selangor Bhd (KHSB) to build the residential blocks on two contiguous parcels of leasehold commercial land, measuring 9.66 acres. 
The project is estimated to need a gross development cost (GDC) of RM835 million — which includes RM160 million development rights value KHSB is entitled to as landowner under the agreement — and will be borne entirely by Aneka Sepakat, to be funded by a combination of internal funds and bank borrowings.
This leaves an expected profit of RM165 million, which will go entirely to Aneka Sepakat.
CCM Duopharma Biotech Bhd, through its wholly-owned subsidiary Duopharma (M) Sdn Bhd, has bagged a contract worth RM156 million to supply pharmaceutical and/or non-pharmaceutical products to hospitals, clinics and others under the Malaysian government from Pharmaniaga Logistics Sdn Bhd. 
The supply period for the products is Dec 1, 2017 until Nov 30, 2019, or such other date as directed by the government. 
Ekovest Bhd is confident of securing at least RM2.5 billion worth of projects in the new year and is aiming to receive the government's endorsement on Phase 2A of the Duta-Ulu Kelang Expressway (DUKE) next year. 
"For next year, we have tendered for RM5 billion worth of projects that are mostly infrastructure; we can easily target a 50% success rate," said managing director Tan Sri Lim Keng Cheng. 
On earnings prospects, Lim said the group's profitability next year would "definitely be better", driven mainly by its construction segment, as its projects — be it infrastructure or property development — are usually undertaken by its in-house construction unit. 
As for its property development segment, the group will be more inclined towards building affordable homes in the near future. However, the group will be more infrastructure-centric next year. 
Knusford Bhd, which counts businessman Tan Sri Lim Kang Hoo as a major shareholder, announced today that its US$166 million (RM677 million) engineering, procurement and construction (EPC) contract for the ArthaLand Cebu Exchange project in the Philippines has been called off.
Knusford said the parties were unable to reach mutually-agreed terms and conditions for the EPC contract.
Sentoria Group Bhd has won a contract to design and build 1Malaysia People's Housing Programme (PR1MA) units in Kuantan, Pahang from HA Properties Sdn Bhd for RM67.3 million.
The contract, due for completion in Dec 21, 2020, is to build 320 single-storey, semi-detached houses in Mukim Penor and another 198 such units in Sri Damai. 
Boustead Holdings Bhd, via its wholly-owned subsidiary Mutiara Rini Sdn Bhd, is acquiring a 6.59-acre land in Jalan Cochrane for RM143.5 million, from its major shareholder Lembaga Tabung Angkatan Tentera (LTAT), for a high-rise development. 
The group plans to develop condominiums, car parks and other facilities on the land, with an expected gross development value of RM1.14 billion.
The development is expected to be launched in 2019 and completed within three years, with development costs to be funded through a combination of bank borrowings and internally-generated funds. 
Kim Loong Resources Bhd posted an 11.18% increase in net profit for the third quarter ended Oct 31, 2017 (3QFY18) to RM27.92 million or 8.97 sen per share, from RM25.11 million or 8.07 sen per share a year ago, on higher production and palm oil prices.
Quarterly revenue grew 16.65% to RM289.42 million, compared to RM248.1 million a year ago. 
The group declared a special single tier dividend of 6 sen per share in respect of financial year ending Jan 31, 2018 (FY18), payable on Feb 7. 
Separately, Kim Loong proposed to split its share on a one-to-three (1-to-3) basis to improve the marketability and trading liquidity of its shares. It also proposed a bonus issue of up to 46.77 million free warrants, on the basis of one warrant for every 20 subdivided shares held after the proposed share split.
TMC Life Sciences Bhd's wholly-owned subsidiary Tropicana Medical Centre (M) Sdn Bhd has awarded the main contract worth RM260 million to Putra Perdana Construction Sdn Bhd to expand capacity of its hospital. 
TMC Life said the expansion of the hospital facilities of Tropicana Medical Centre will increase its existing 205 beds to 635 beds, comprising a new block of 12-storey hospital facilities and a new 7-storey block with 1,150 car parking lots. 
The contract, for 31 plus 9 months, will be funded through internally-generated funds and bank borrowings. 
Automotive replacement parts manufacturer New Hoong Fatt Holdings Bhd (NHF) is seeking to grow its exports revenue further in 2018. 
For the nine months ended Sept 30, 2017, the group generated an export revenue of RM99.3 million, an increase of 14% from RM87 million in the corresponding period of the preceding year. Currently, the export segment represents 53% of the group's consolidated revenue. 
Additionally, NHF is gearing up to broaden its foothold in the automotive aftermarket worldwide, by focusing on both distribution network expansion and product diversification.