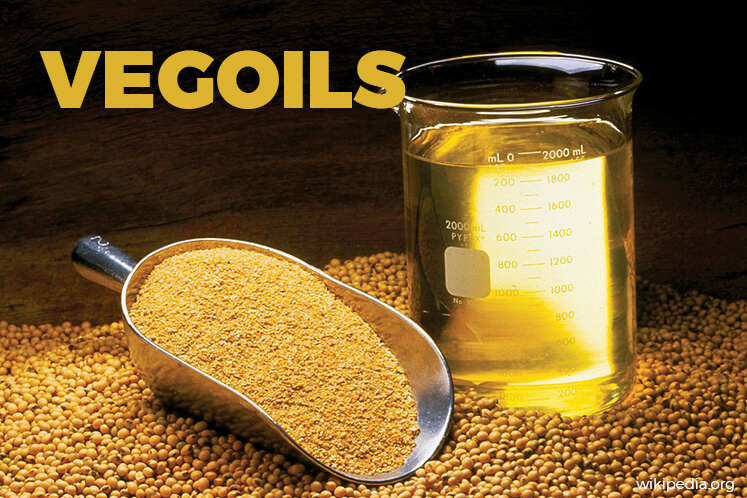 KUALA LUMPUR (April 4): Malaysian palm oil futures hit a near six-month low in early trade on Tuesday, tracking rival soyoil on the Chicago Board of Trade which fell nearly 1% overnight, and ahead of the release of official output and export data next week.     
The benchmark palm oil contract for June delivery on the Bursa Malaysia Derivatives Exchange was down 0.7% at RM2,644 (US$597.18) a tonne at the midday break.
It earlier hit RM2,643, the weakest since Oct. 14, a level it touched on Monday as well.    
Traded volumes stood at 22,839 lots of 25 tonnes each at noon.
"The market fell tracking soyoil, while waiting for new leads," said a futures trader in Kuala Lumpur.
Upcoming inventory data from the Malaysian Palm Oil Board (MPOB) will be impacted by local consumption, as production and exports are "expected to offset each other," the trader added.
Data from official industry regulator MPOB is forecast to show rising production and exports, and is scheduled for release on April 10.
Output of the tropical oil at the world's second largest producer could rise in March, in line with the seasonal trend, but production growth is expected to be small, according to traders.
In February, production declined 1.4% on-month, while exports saw a 14% drop.
Palm oil shipments for the full month of March saw a near 7% gain from a month ago, cargo surveyor data showed last week.
Palm oil seems to have found a support at RM2,638 per tonne, and it may continue to hover above this level or bounce  towards a range of RM2,685-2,715, said Wang Tao, a Reuters market analyst for commodities and energy technicals.
Palm oil is also impacted by the price movements of related edible oils, including soyoil, as they compete for a share in the global vegetable oils market.
On Tuesday, CBOT soybean oil reversed losses from the previous session to trade up 0.2%. China's Dalian Commodity Exchange is closed for a national holiday.
Palm, soy and crude oil prices at 0457 GMT
| | | | | | | |
| --- | --- | --- | --- | --- | --- | --- |
| Contract          | Month   | Last   | Change     | Low    | High  | Volume |
| MY PALM OIL       | APR7    | 2860    | -2.00    | 2855    | 2868      | 62 |
| MY PALM OIL       | MAY7    | 2741   | -12.00    | 2737    | 2752     | 676 |
| MY PALM OIL       | JUN7    | 2644   | -18.00    | 2643    | 2657    | 8733 |
| CHINA PALM OLEIN  | SEP7       | 0    | +0.00       | 0 | 0 | 0 |
| CHINA SOYOIL      | SEP7       | 0    | +0.00       | 0 | 0 | 0 |
| CBOT SOY OIL      | MAY7   | 31.49    | +0.07   | 31.41   | 31.58    | 2126 |
| INDIA PALM OIL    | APR7    | 0.00    | +0.00    | 0.00       | 0 | 0 |
| INDIA SOYOIL      | APR7       | 0    | +0.00       | 0 | 0 | 0 |
| NYMEX CRUDE       | MAY7   | 50.23    | -0.01   | 50.20   | 50.34    | 8653 |
Palm oil prices in Malaysian ringgit per tonne
CBOT soy oil in US cents per pound
Dalian soy oil and RBD palm olein in Chinese yuan per tonne
India soy oil in Indian rupee per 10 kg
Crude in US dollars per barrel
(US$1 = RM4.4275)
(US$1 = 64.9600 Indian rupees)
(US$1 = 6.8832 Chinese yuan)