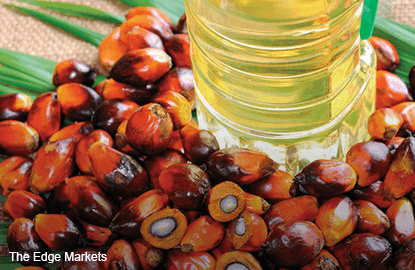 KUALA LUMPUR (March 15): Malaysian palm oil futures rose on Wednesday evening, their strongest daily rise in four months and a second consecutive session of gains on support from improving exports and strong physical prices.
The market was also supported by concerns about a potential El Nino weather pattern returning this year, a trader said. This could mean below normal rainfall in the region, which would be detrimental for crops and palm fruit yields.
Benchmark palm oil futures for May delivery on the Bursa Malaysia Derivatives Exchange were up 2.4% at RM2,817 (US$633.60) a tonne at the end of the trading day, its highest daily gain since Nov 11 and recovering from a near five-month low hit in the previous session.
Traded volumes stood at 57,015 lots of 25 tonnes each on Wednesday evening.
"Physical prices are still strong and export figures are improving. Earlier exports were down by 25%, now they are down by 5.5%," a Kuala Lumpur-based trader said.
"Now, we are expecting March 1-20 export data to be up. We're looking at India as their demonetisation exercise is over and they are coming to buy for Ramadan."
Palm oil exports for the first 10 days of March declined 25% from a month earlier, showed cargo surveyor data.
However, for the first half of March, shipments declined 5.5% on month, data from Intertek Testing Services showed, while Societe Generale de Surveillance data showed a 1.1% gain in exports.
India, the world's largest consumer of vegetable oils and the largest importer of Malaysian palm oil, is seen buying more of the tropical oil ahead of the Muslim holy month of Ramadan in late May.
The Muslim fasting month sees a higher usage of palm oil for cooking purposes, as Muslims break fast with feasting at the end of the day.
In other related vegetable oils, soybean oil on the CBOT was up 1.2%, while the May soybean oil contract on the Dalian Commodity Exchange fell 0.4%.
The May contract for palm olein on the Dalian Commodity Exchange rose 1.2%.
Palm, soy and crude oil prices at 1124 GMT
| | | | | | | |
| --- | --- | --- | --- | --- | --- | --- |
| Contract          | Month    | Last  | Change     | Low    | High  | Volume |
| MY PALM OIL       | MAR7     | 3020  | +35.00    | 3000    | 3020     | 104 |
| MY PALM OIL       | APR7     | 2947  | +77.00    | 2879    | 2947    | 1497 |
| MY PALM OIL       | MAY7     | 2816  | +65.00    | 2756    | 2822   | 25592 |
| CHINA PALM OLEIN  | MAY7     | 5838  | +70.00    | 5710    | 5872  | 449270 |
| CHINA SOYOIL      | MAY7     | 6348  | -22.00    | 6294    | 6390  | 369382 |
| CBOT SOY OIL      | MAY7    | 32.68   | +0.38   | 32.22   | 32.69    | 8679 |
| INDIA PALM OIL    | MAR7   | 529.70   | +7.90  | 525.00   | 532.5    | 1762 |
| INDIA SOYOIL      | MAR7    | 654.1   | +7.35     | 650     | 656    | 5770 |
| NYMEX CRUDE       | APR7    | 48.70   | +0.98   | 48.32   | 48.87   | 99530 |
CBOT soy oil in US cents per pound
Dalian soy oil and RBD palm olein in Chinese yuan per tonne
India soy oil in Indian rupee per 10 kg
Crude in US dollars per barrel
(US$1 = RM4.4460)
(US$1 = 65.6900 Indian rupees)
(US$1 = 6.9115 Chinese yuan)