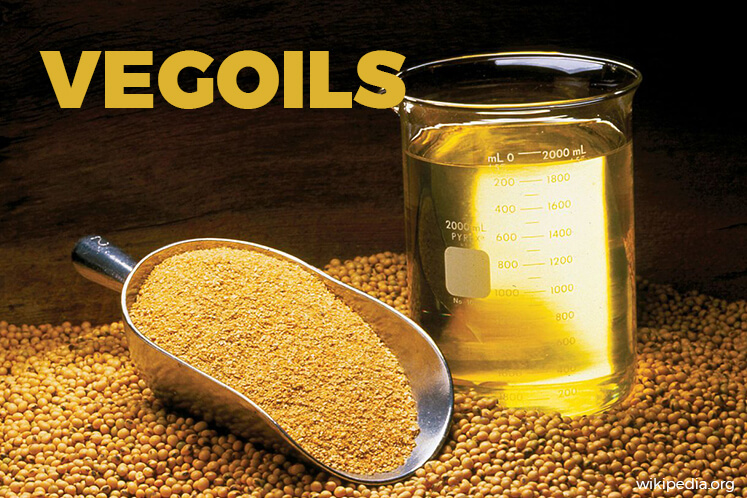 KUALA LUMPUR (April 6): Malaysian palm oil futures fell on Thursday, retreating from a one-week high reached in the previous session, on expectation of a production rebound.
Also, weighing on the market was Ramadan demand which is yet to show any signs of a pick-up. The month-long festival sees Muslims in regions such as India and the Middle East consume more palm oil as they break day-long fasts with meals and feasting.
The benchmark palm oil contract for June delivery on the Bursa Malaysia Derivatives Exchange was down 0.3% at RM2,706 (US$610.28) a tonne at the midday break.
On Wednesday, it clocked up its biggest single-session gain in more than five months, tracking rival edible oils and on a bullish export outlook for April due to Ramadan demand.
Traded volumes stood at 20,139 lots of 25 tonnes each at Thursday noon.
"The market spiked yesterday due to soyoil, I don't think it can follow through today because of demand," said a trader from Kuala Lumpur.
"We're seeing some demand for Ramadan requirement, but it's been the same as it was a few weeks ago. Buyers are not really chasing yet."
Palm oil output in the world's No.2 producer Malaysia likely jumped 10.4% to 1.39 million tonnes in March, marking the first month-on-month climb in about five months, a Reuters poll showed.
March end-stocks likely rose 0.1% to 1.46 million tonnes, while exports were seen rising 7% to 1.18 million  tonnes. Official data will be released by the Malaysian Palm Oil Board on April 10.
Palm oil is expected to gain more into a range of RM2,739-2,762 per tonne, according to a Reuters market analyst for commodities and energy technicals.
Palm oil is impacted by the price movements in related edible oils, including soyoil, as they compete for a share in the global vegetable oils market.
Soybean oil on the Chicago Board of Trade fell 0.1%, while the September soybean oil contract on the Dalian Commodity Exchange rose 0.3%.
In other related vegetable oils, the September contract for palm olein on the Dalian Commodity Exchange was up 1.3%.
Palm, soy and crude oil prices at 0628 GMT
| | | | | | | |
| --- | --- | --- | --- | --- | --- | --- |
| Contract          | Month    | Last  | Change     | Low   | High   | Volume |
| MY PALM OIL       | APR7     | 2920  | -10.00    | 2915   | 2930       | 70 |
| MY PALM OIL       | MAY7     | 2822  | -11.00    | 2820   | 2839      | 846 |
| MY PALM OIL       | JUN7     | 2706   | -8.00    | 2700   | 2716     | 7787 |
| CHINA PALM OLEIN  | SEP7     | 5418  | +68.00    | 5380   | 5434   | 428594 |
| CHINA SOYOIL      | SEP7     | 6034  | +16.00    | 6018   | 6080   | 346794 |
| CBOT SOY OIL      | MAY7     | 31.8   | -0.03   | 31.75  | 32.01     | 3314 |
| INDIA PALM OIL    | APR7   | 524.30   | +0.50  | 523.80  | 525.9      | 237 |
| INDIA SOYOIL      | APR7    | 641.5   | +1.05   | 640.3  | 642.2     | 2970 |
| NYMEX CRUDE       | MAY7    | 50.93   | -0.22   | 50.77  | 51.00    | 20002 |
Palm oil prices in Malaysian ringgit per tonne
CBOT soy oil in US cents per pound
Dalian soy oil and RBD palm olein in Chinese yuan per tonne
India soy oil in Indian rupee per 10 kg
Crude in US dollars per barrel
(US$1 = RM4.4340)
(US$1 = 64.9800 Indian rupees)
(US$1 = 6.8987 Chinese yuan)