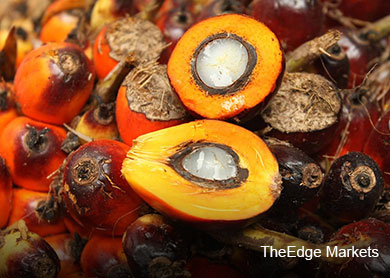 PARIS (Nov 19): The world will become more dependent on palm oil in the next five to 10 months amid insufficient export supplies of sunflower-seed oil, soybean oil and other fats, according to Oil World.
Global palm oil usage may rise by 3 million metric tons in 2014-15, while output is forecast to rise by 2 million tons, the Hamburg-based industry analyst wrote in an e-mailed report. That will reduce inventories, it said.
Palm oil yields in Malaysia and Indonesia have started falling on the delayed effect of drought earlier this year, Oil World reported earlier this month. Stocks of the oil, used in food and to make biodiesel, may drop to 16.1 percent of annual usage by the end of September 2015 from 17.3 percent a year earlier, Oil World said.
"We therefore expect palm oil prices to appreciate at least moderately in coming months and that the price premium over fossil fuels will widen to ration palm oil consumption in the energy market," Oil World said.
Palm oil futures have advanced about 5 percent in the past month in Malaysia.
Indonesia's palm oil output is forecast to climb to 32.3 million tons in 2015 from 30.3 million tons this year and 28.4 million tons last year. The country's inventories of palm oil are forecast to slip to 2.7 million tons at the end of December from 2.88 million tons a year earlier.
"Yields have turned out smaller than expected since September 2014 as a lagged effect of unusually dry conditions earlier this year," the researcher said. "Very dry conditions in several oil palm areas of Sumatra and Kalimantan also in September and October are likely to show up in reduced yields per tree in mid-2015."
Malaysia Production
Malaysia's production is seen advancing to almost 20 million tons this year from 19.2 million tons, with stocks of 2.05 million tons at the end of 2014 from 1.99 million tons at the end of last year, according to Oil World.
Total exports to the Philippines are predicted to more than double to 580,000 tons from 234,000 tons last year as a shortage of coconut oil results in a "pronounced" shift of domestic consumption to palm oil, the researcher said.
"One of the most striking changes in palm oil trade flows is taking place in the Philippines," Oil World said. "Both Malaysia and Indonesia boosted shipments to that destination so far in 2014."