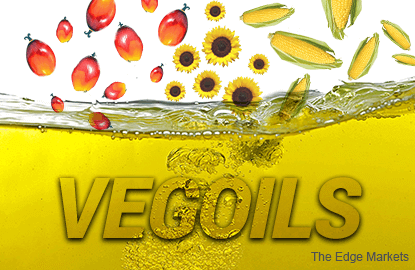 KUALA LUMPUR (Jan 25): Malaysian palm oil futures declined on Wednesday, tracking weaker performing rival soyoil and as traders closed positions ahead of the Lunar New Year public holidays.
Palm had risen in the previous session, after declining for four consecutive days.
Benchmark palm oil futures for April delivery on the Bursa Malaysia Derivatives Exchange fell 0.8% to 3,125 ringgit (US$704.30) a tonne at the end of the trading day. 
Traded volumes stood at 41,891 lots of 25 tonnes each in the evening.
"Production is down and exports are up, but the market is still down. It is probably trading in a range as prices rallied too much yesterday," said a Kuala Lumpur-based futures trader. 
"The market is seeing profit-taking before the long holidays."
Bursa Malaysia will be closed for the second half of the trading day on Jan 27, and on Jan 30 for the Lunar New Year celebrations.  
Palm prices are also impacted by movements in prices of related edible oils, as they compete for a share in the global vegetable oils market.
The March soybean oil contract on CBOT was down 0.6%, while the May soybean oil contract on the Dalian Commodity Exchange fell 0.6%.
Palm oil's fundamentals however remain bullish, say traders who expect output in January to decline in a seasonal trend, while exports rise. 
Malaysian palm oil shipments rose 9.3% during the Jan 1-25 period versus last month, according to cargo surveyor Intertek Testing Services on Wednesday morning.
Palm oil remains neutral in a range of 3,089-3,169 ringgit per tonne, technical analysis by Wang Tao, Reuters market analyst for commodities and energy technicals, showed.
In other related edible oils, the May contract for Dalian palm olein declined 0.6%.
Palm, soy and crude oil prices at 1044 GMT
| | | | | | | |
| --- | --- | --- | --- | --- | --- | --- |
| Contract | Month | Last | Change | Low | High | Volume |
| MY PALM OIL | FEB7 | 3260 | -22.00 | 3242 | 3275 | 1158 |
| MY PALM OIL | MAR7 | 3182 | -22.00 | 3163 | 3206 | 6103 |
| MY PALM OIL | APR7 | 3126 | -24.00 | 3106 | 3150 | 18204 |
| CHINA PALM OLEIN | MAY7 | 6292 | -38.00 | 6274 | 6382 | 356636 |
| CHINA SOYOIL | MAY7 | 6982 | -40.00 | 6962 | 7072 | 261372 |
| CBOT SOY OIL | MAR7 | 35.08 | -0.20 | 35.05 | 35.3 | 9896 |
| INDIA PALM OIL | JAN7 | 596.60 | -0.50 | 594.10 | 596.6 | 519 |
| INDIA SOYOIL | FEB7 | 715.1 | -3.00 | 712.3 | 716.4 | 9700 |
| NYMEX CRUDE | MAR7 | 52.81 | -0.37 | 52.74 | 53.09 | 64288 |
Palm oil prices in Malaysian ringgit per tonne
 CBOT soy oil in U.S. cents per pound
 Dalian soy oil and RBD palm olein in Chinese yuan per tonne
 India soy oil in Indian rupee per 10 kg
 Crude in U.S. dollars per barrel
   
(US$1 = 4.4370 ringgit)
(US$1 = 68.1050 Indian rupees)
(US$1 = 6.8800 Chinese yuan)