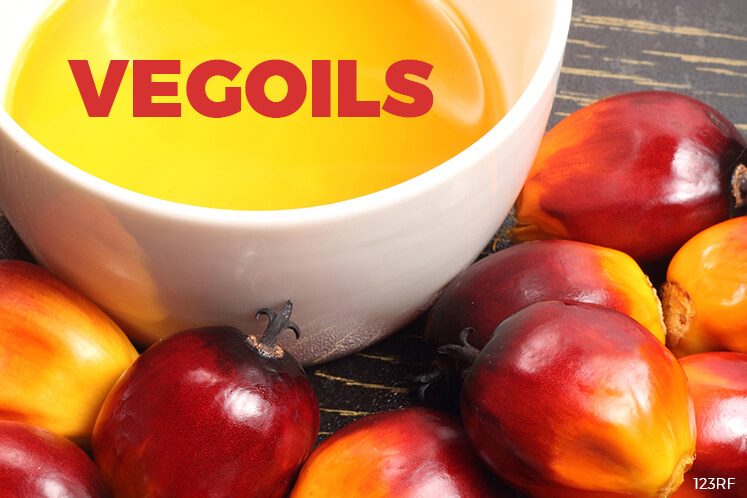 KUALA LUMPUR (April 10): Malaysian palm oil futures hit their lowest in nearly six months on Monday on forecast of rising production, ahead of official output data released at the midday break.
Data from the Malaysian Palm Oil Board (MPOB) showed end-stocks for March rose 6.5% on-month to 1.55 million tonnes, outpacing market expectations, while exports rose 14.3% to 1.27 million tonnes.
The benchmark palm oil contract for June delivery on the Bursa Malaysia Derivatives Exchange was down 1.3% at RM2,627 (US$591.93) a tonne at the midday break. Earlier in the session, it hit RM2,613, its weakest level since Oct 13.
Traded volumes stood at 27,411 lots of 25 tonnes each at noon.
"The rise in output is expected given March has more calendar days, compared with February. We are just waiting for MPOB's official numbers now," a futures trader from Kuala Lumpur had told Reuters before the data release.
The MPOB data also showed that output surged 16.3% to 1.46 million tonnes, its first monthly gain since September and its strongest on-month rise in over a year.
Concerns of rising output weighed on the market despite data indicating an improvement in demand. Palm oil shipments from Malaysia, the world's second-biggest producer of the tropical oil, soared 20.9% during the first 10 days of April as compared with last month, showed data from cargo surveyor Intertek Testing Services.
Palm oil looks neutral in a range of RM2,638-2,665 per tonne, according to Wang Tao, a Reuters market analyst for commodities and energy technicals.
Price movements in related edible oils, including soyoil, have an impact on palm oil, as they compete for a share in the global vegetable oils market. Soybean oil on the Chicago Board of Trade dropped 0.4%.
In other related vegetable oils, the September soybean oil contract on the Dalian Commodity Exchange was up 0.1%, while the September contract for palm olein on the Dalian Commodity Exchange slid 1.7%.
Palm, soy and crude oil prices at 0537 GMT
| | | | | | | |
| --- | --- | --- | --- | --- | --- | --- |
| Contract          | Month    | Last  | Change     | Low    | High  | Volume |
| MY PALM OIL       | APR7     | 2859  | -26.00    | 2858    | 2871     | 145 |
| MY PALM OIL       | MAY7     | 2721  | -36.00    | 2710    | 2746    | 1231 |
| MY PALM OIL       | JUN7     | 2627  | -33.00    | 2613    | 2681   | 11826 |
| CHINA PALM OLEIN  | SEP7     | 5280  | -88.00    | 5268    | 5448  | 737360 |
| CHINA SOYOIL      | SEP7     | 5978   | +6.00    | 5940    | 6044  | 537502 |
| CBOT SOY OIL      | MAY7    | 31.48   | -0.14   | 31.43    | 31.8    | 5156 |
| INDIA PALM OIL    | APR7   | 517.50   | -4.20  | 517.40     | 520     | 256 |
| INDIA SOYOIL      | APR7    | 633.8   | -2.10   | 633.5  | 634.75    | 2050 |
| NYMEX CRUDE       | MAY7    | 52.44   | +0.20   | 52.29   | 52.62   | 25258 |
Palm oil prices in Malaysian ringgit per tonne
CBOT soy oil in US cents per pound
Dalian soy oil and RBD palm olein in Chinese yuan per tonne
India soy oil in Indian rupee per 10 kg
Crude in US dollars per barrel
(US$1 = RM4.4380)
(US$1 = 64.4500 Indian rupees)
(US$1 = 6.9071 Chinese yuan)