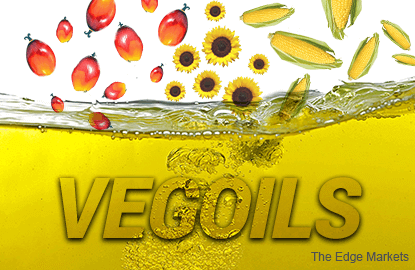 KUALA LUMPUR (Feb 27): Malaysian palm oil futures fell in early trade on Monday, after hitting a near one-week high, as traders sold on expectations of rising output and weakening export demand. 
Benchmark palm oil futures for May on the Bursa Malaysia Derivatives Exchange were down 0.8% at 2,784 ringgit (US$627) a tonne at the midday break. Palm, however, had risen to 2,815 ringgit earlier in the day, its highest level since Feb 21. 
Traded volumes stood at 16,842 lots of 25 tonnes each at noon.
Palm oil output is expected to see a recovery by the second quarter of the year. Exports in February so far have declined, after seeing a surge in demand the previous month due to Lunar New Year celebrations in China which typically sees higher consumption.
Palm has seen two consecutive weeks of declines and has lost over 8% since Feb 13.
"The market has resumed selling which started two weeks ago, but is trading in a range without any bullish indicators, as it looks for new leads," said a futures trader from Kuala Lumpur.  
Demand would be the key factor to support palm oil prices as palm oil output is largely expected to see a recovery this year from the dry weather effects of the crop-damaging El Nino, the trader added.
Palm oil shipments from Malaysia, the world's second-largest palm oil producer after Indonesia, however declined 1.9% between Feb 1-25 from the corresponding period last month, showed data from cargo surveyor Intertek Testing Services on Saturday.
Palm oil may retrace to a support at 2,766 ringgit per tonne, as it has failed to break a resistance at 2,821 ringgit, according to Wang Tao, Reuters market analyst for commodities and energy technicals.
In related vegetable oils, soybean oil on the Chicago Board of Trade was up 0.3%, while soybean oil contract on the Dalian Commodity Exchange rose 0.1%. 
The May contract for palm olein on China's Dalian Commodity Exchange gained 0.2%.
Palm, soy and crude oil prices at 0458 GMT
| | | | | | | |
| --- | --- | --- | --- | --- | --- | --- |
| Contract | Month | Last | Change | Low | High | Volume |
| MY PALM OIL | MAR7 | 2952 | -25.00 | 2951 | 2964 | 135 |
| MY PALM OIL | APR7 | 2835 | -25.00 | 2831 | 2869 | 687 |
| MY PALM OIL | MAY7 | 2784 | -22.00 | 2779 | 2815 | 10095 |
| CHINA PALM OLEIN | MAY7 | 5802 | +10.00 | 5800 | 5868 | 374698 |
| CHINA SOYOIL | MAY7 | 6584 | +8.00 | 6582 | 6624 | 254138 |
| CBOT SOY OIL | MAY7 | 32.77 | +0.10 | 32.74 | 32.86 | 4617 |
| INDIA PALM OIL | FEB7 | 546.70 | -0.80 | 545.60 | 546.8 | 126 |
| INDIA SOYOIL | MAR7 | 656.5 | +0.80 | 654.25 | 657.4 | 2990 |
| NYMEX CRUDE | APR7 | 54.24 | +0.25 | 53.94 | 54.26 | 15241 |
 Palm oil prices in Malaysian ringgit per tonne
 CBOT soy oil in U.S. cents per pound
 Dalian soy oil and RBD palm olein in Chinese yuan per tonne
 India soy oil in Indian rupee per 10 kg
 Crude in U.S. dollars per barrel
 
(US$1 = 4.4410 ringgit)
(US$1 = 66.6900 Indian rupees)
(US$1 = 6.8750 Chinese yuan)