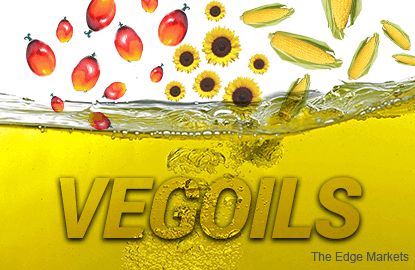 SINGAPORE (Feb 21): Malaysian palm oil futures slid for a fourth consecutive session on Tuesday, hitting their lowest in more than three months, as expectations of higher production and ample supplies of rival soybean oil weighed on the market.
Benchmark palm oil futures for May delivery on the Bursa Malaysia Derivatives Exchange had declined 0.2% to RM2,826 (US$633.9) a tonne by the mid-day break. Earlier in the session, they hit a low RM2,823, the weakest since Nov 15, 2016.
Traded volumes stood at 25,093 lots of 25 tonnes each at the end of the morning session.
"Production is picking up, which is a bearish signal, and we are seeing plenty of soyoil supplies," said one Kuala Lumpur-based trader.
Palm's fresh fruit yields are still suffering the effects of a crop-damaging El Nino, but expectations of a recovery by the second half of the year are weighing on prices, according to industry analysts.
Exports of Malaysian palm oil products during Feb 1–20 fell 0.8% to 733,288 tonnes from 739,367 tonnes shipped a month ago, cargo surveyor Intertek Testing Services said on Monday.
But another cargo surveyor, Societe Generale de Surveillance, said exports during the period rose 1.7% to 745,564 tonnes from 733,002 tonnes shipped during Jan 1–20.
Technicals called for palm oil to rebound. Palm oil is due for a bounce, as suggested by it wave pattern, a falling channel and the hourly RSI, according to Wang Tao, a Reuters market analyst for commodities and energy technicals.
In competing vegetable oils, soybean oil on the Chicago Board of Trade added 0.1%, while the most-active contract for Dalian palm olein fell 1.1%.
(US$1 = RM4.458)
(US$1 = 66.90 rupees)
(US$1 = 6.88 Chinese yuan)
Palm, soy and crude oil prices at 0448 GMT
| | | | | | | |
| --- | --- | --- | --- | --- | --- | --- |
| Contract        | Month    | Last   | Change     | Low    | High  | Volume |
| MY PALM OIL      | MAR7    | 3065    | -8.00    | 3065    | 3095     | 174 |
| MY PALM OIL      | APR7    | 2915   | -10.00    | 2914    | 2952    | 2896 |
| MY PALM OIL      | MAY7    | 2826    | -5.00    | 2823    | 2860   | 11211 |
| CHINA PALM OLEIN | MAY7    | 5860   | -62.00    | 5858    | 5944  | 409666 |
| CHINA SOYOIL     | MAY7    | 6638   | -54.00    | 6632    | 6722  | 282482 |
| CBOT SOY OIL     | MAR7   | 32.91    | +1.10   | 32.84   | 33.13    | 6436 |
| INDIA PALM OIL   | FEB7  | 556.60    | +1.10  | 554.90  | 557.10      | 30 |
| INDIA SOYOIL     | MAR7  | 662.35    | +2.95  | 659.50  | 662.50    | 2060 |
| NYMEX CRUDE      | MAR7   | 53.69    | +0.29   | 53.35   | 53.88   | 12413 |
Palm oil prices in Malaysian ringgit per tonne
CBOT soy oil in US cents per pound
Dalian soy oil and RBD palm olein in Chinese yuan per tonne
India soy oil in Indian rupee per 10 kg
Crude in US dollars per barrel