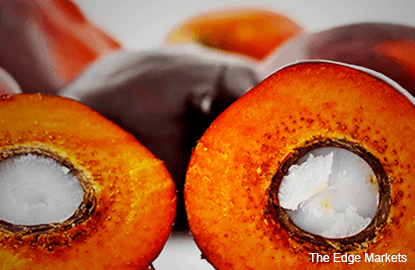 KUALA LUMPUR (Feb 24): Malaysian palm oil futures dipped slightly in early trade on Friday in line with a weaker soy, putting it on track for a sixth session of losses in seven and a fall of nearly 10% over two weeks.
A trader from Kuala Lumpur, however, said losses would be limited after the strong selldown in previous sessions: "The market is taking a breather after a whole week of active and volatile trading."
Benchmark palm oil futures for May on the Bursa Malaysia Derivatives Exchange declined 0.1% to RM2,779 (US$625.34) a tonne at the midday break.
Palm was down 2.7% for the week following a near 7% decline last week. The oil has been on a decline as traders sold over concerns of rising output and weak demand.
Traded volumes stood at 24,237 lots of 25 tonnes each at noon.
"Palm declined as it tracked soyoil losses yesterday," said a trader, referring to palm's rival oil on the Chicago Board of Trade.
Palm oil prices are usually impacted by the movements of related edible oils such as soy, as they compete for a share in the global vegetable oils market.
Soybean oil on the Chicago Board of Trade is up 0.5% on Friday, while the soybean oil contract on the Dalian Commodity Exchange declined 0.5%.
The May contract for palm olein on China's Dalian Commodity Exchange declined 0.6%.
Palm oil may bounce to a resistance at RM2,827 per tonne, as it has found a support at RM2,750, said a Reuters market analyst for commodities and energy technicals.
Traders are forecasting output for the full month of February to rise as palm's fresh fruit yields recover from the El Nino's crop damaging effects.
Demand in February, however, is seen weakening, as exports slump due to cooling demand from top consumer China, which ramped up consumption in January for the Lunar New Year celebrations.
Palm, soy and crude oil prices at 0549 GMT
| | | | | | | |
| --- | --- | --- | --- | --- | --- | --- |
| Contract           | Month    | Last  | Change    | Low    | High  | Volume |
| MY PALM OIL       | MAR7      | 2945   | +0.00   | 2940    | 2959     | 183 |
| MY PALM OIL       | APR7      | 2830   | -5.00   | 2819    | 2849    | 1442 |
| MY PALM OIL       | MAY7      | 2779   | -3.00   | 2767    | 2790   | 10685 |
| CHINA PALM OLEIN  | MAY7      | 5808  | -36.00   | 5730    | 5826  | 392390 |
| CHINA SOYOIL      | MAY7      | 6580  | -36.00   | 6518    | 6604  | 264138 |
| CBOT SOY OIL      | MAY7     | 32.76   | +0.19   | 32.6   | 32.86    | 4879 |
| INDIA PALM OIL    | FEB7      | 0.00   | +0.00   | 0.00       | 0 | 0 |
| INDIA SOYOIL      | MAR7        | 0 | +0.00 | 0 | 0 | 0 |
| NYMEX CRUDE       | APR7     | 54.45   | +0.00  | 54.29   | 54.51   | 12744 |
Palm oil prices in Malaysian ringgit per tonne
CBOT soy oil in US cents per pound
Dalian soy oil and RBD palm olein in Chinese yuan per tonne
India soy oil in Indian rupee per 10 kg
Crude in US dollars per barrel
(US$1 = RM4.4440)
(US$1 = 66.6850 Indian rupees)
(US$1 = 6.8702 Chinese yuan)