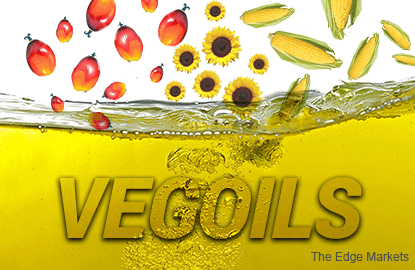 KUALA LUMPUR (March 22): Malaysian palm oil futures on Wednesday hit a near two-week high before reversing gains, weighed down by weaker demand, dealers said, forecasting further range-bound trading on uncertainties of production outlook.   
Benchmark palm oil futures for June delivery on the Bursa Malaysia Derivatives Exchange were down 0.1% at 2,807 ringgit (US$633.71) a tonne at the midday break. Earlier in the session, they hit 2,826 ringgit a tonne, their highest since March 9.
Traded volumes stood at 15,408 lots of 25 tonnes each at noon on Wednesday.
"So far, there are signs of decline in demand as exports are not very good. There should be a rise in production though the market is not very sure about it," said a trader from Kuala Lumpur, referring to the market's uncertainty over palm oil's seasonal gain in production.
Palm oil production typically rises on-month in March on a seasonal basis. Malaysian output dropped 1.4% in February this year, while end-stocks declined 5.3% to 1.46 million tonnes.
However, industry players are uncertain about the extent of recovery in production levels, as palm oil trees still face the brunt of a crop-damaging El Nino, which reduces yields of fresh fruit bunches. 
Malaysian palm oil exports fell between March 1 and March 20, compared with a month ago. Cargo surveyor Intertek Testing Services reported a 3% drop, while Societe Generale de Surveillance saw a decline of 7.9%.
Palm oil is expected to break a resistance at 2,810 ringgit per tonne and rise towards the next resistance at 2,880 ringgit, said Wang Tao, a Reuters market analyst for commodities and energy technicals.
In other related vegetable oils, soybean oil on the Chicago Board of Trade was slightly up 0.03%, while the September soybean oil contract on the Dalian Commodity Exchange rose 0.1%.
The September contract for palm olein on the Dalian Commodity Exchange gained 0.6%.
 Palm, soy and crude oil prices at 0544 GMT
| | | | | | | |
| --- | --- | --- | --- | --- | --- | --- |
| Contract | Month | Last | Change | Low | High | Volume |
| MY PALM OIL | APR7 | 2965 | -3.00 | 2964 | 2970 | 416 |
| MY PALM OIL | MAY7 | 2873 | -4.00 | 2872 | 2895 | 1899 |
| MY PALM OIL | JUN7 | 2807 | -2.00 | 2804 | 2826 | 8504 |
| CHINA PALM OLEIN | SEP7 | 5650 | +28.00 | 5626 | 5682 | 427838 |
| CHINA SOYOIL | SEP7 | 6512 | +8.00 | 6476 | 6540 | 300420 |
| CBOT SOY OIL | MAY7 | 33.15 | +0.01 | 32.93 | 33.25 | 3410 |
| INDIA PALM OIL | MAR7 | 535.50 | -0.40 | 531.30 | 536.6 | 120 |
| INDIA SOYOIL | APR7 | 649.35 | +0.80 | 648 | 650.25 | 4640 |
| NYMEX CRUDE | MAY7 | 48.06 | -0.18 | 48.01 | 48.24 | 25224 |
 Palm oil prices in Malaysian ringgit per tonne
 CBOT soy oil in U.S. cents per pound
 Dalian soy oil and RBD palm olein in Chinese yuan per tonne
 India soy oil in Indian rupee per 10 kg
 Crude in U.S. dollars per barrel
    
(US$1 = 4.4295 ringgit)
(US$1 = 65.4800 Indian rupees)
(US$1 = 6.8802 Chinese yuan)