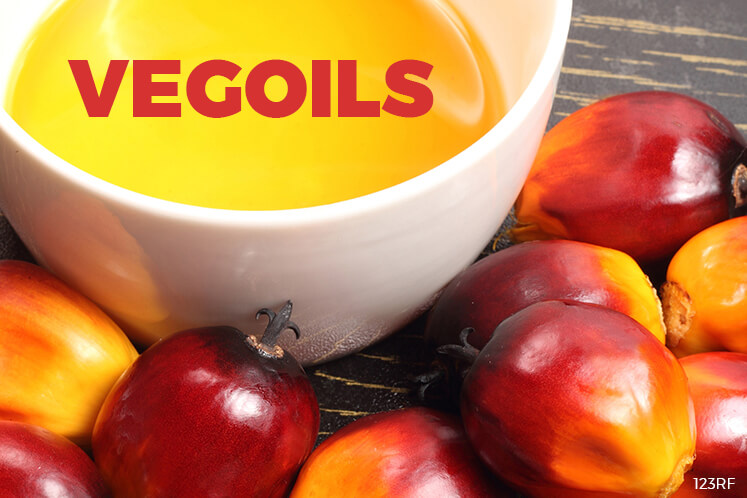 KUALA LUMPUR (April 7): Malaysian palm oil futures fell on Friday, in line for its sharpest drop in a week, as it tracked weaker rival soyoil which fell on concerns of ample global soybean supplies.
The benchmark palm oil contract for June delivery on the Bursa Malaysia Derivatives Exchange was down 1.3% at RM2,673 (US$602.71) a tonne at the midday break, marking its sharpest decline since March 30 and third losing session in four.
Palm's decline came ahead of the official data on production, exports and end-stocks from the Malaysian Palm Oil Board due on Monday.
The market, however, has gained 2.3% so far this week, after two straight weeks of losses.
Traded volumes stood at 18,893 lots of 25 tonnes each at noon.
"Palm is down tracking weakness in other vegetable oils," said a futures trader from Kuala Lumpur.
"The market could go back down to RM2,660 levels for support."
Palm oil prices have been on a downward trend in recent weeks on expectations of rising output and tracking weaker related edible oils.
Palm oil output in the world's No.2 producer Malaysia likely jumped 10.4% to 1.39 million tonnes in March, marking the first month-on-month climb in about five months, a Reuters poll showed.
March end-stocks likely rose 0.1% to 1.46 million tonnes, while exports were seen rising 7% to 1.18 million tonnes.
Palm oil is impacted by the price movements in related edible oils, including soyoil, as they compete for a share in the global vegetable oils market. Soybean oil on the Chicago Board of Trade fell 0.2%.
In other related vegetable oils, the September soybean oil contract on the Dalian Commodity Exchange was down 1.6%, while the September contract for palm olein on the Dalian Commodity Exchange fell 0.9%.
Palm, soy and crude oil prices at 0449 GMT
| | | | | | | |
| --- | --- | --- | --- | --- | --- | --- |
| Contract          | Month    | Last  | Change     | Low   | High   | Volume |
| MY PALM OIL       | APR7     | 2880  | -29.00    | 2880   | 2881       | 47 |
| MY PALM OIL       | MAY7     | 2774  | -38.00    | 2773   | 2800      | 440 |
| MY PALM OIL       | JUN7     | 2673  | -35.00    | 2670   | 2697     | 7909 |
| CHINA PALM OLEIN  | SEP7     | 5358  | -48.00    | 5330   | 5426   | 409434 |
| CHINA SOYOIL      | SEP7     | 5950  | -94.00    | 5940   | 6050   | 408720 |
| CBOT SOY OIL      | MAY7     | 31.3   | -0.07   | 31.26  | 31.43     | 3917 |
| INDIA PALM OIL    | APR7   | 523.70   | +0.20  | 521.00    | 524      | 100 |
| INDIA SOYOIL      | APR7    | 634.3   | -2.55     | 632  | 634.4     | 1550 |
| NYMEX CRUDE       | MAY7    | 52.56   | +0.86   | 51.60  | 52.94   | 122061 |
Palm oil prices in Malaysian ringgit per tonne
CBOT soy oil in US cents per pound
Dalian soy oil and RBD palm olein in Chinese yuan per tonne
India soy oil in Indian rupee per 10 kg
Crude in US dollars per barrel
(US$1 = RM4.4350)
(US$1 = 64.3900 Indian rupees)
(US$1 = 6.8996 Chinese yuan)