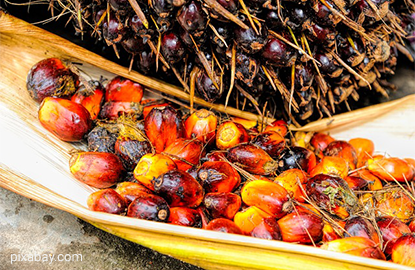 KUALA LUMPUR (Feb 16): Malaysian palm oil futures rose in early trade on Thursday supported by a weaker ringgit, but traders said demand for the tropical oil remained weak.
A weaker ringgit usually makes palm oil cheaper for holders of foreign currencies and helps demand. The ringgit weakened 0.2% to 4.4540 per US dollar by noon. It earlier hit 4.4550, its weakest in a month.  
Benchmark palm oil futures for May delivery on the Bursa Malaysia Derivatives Exchange were up 0.2% at RM2,973 (US$667.49) a tonne at the midday break.
Traded volumes stood at 37,306 lots of 25 tonnes each at noon.
"The market is up on the weaker ringgit; and exports, based on data from Intertek Testing Services, were higher," said a trader from Kuala Lumpur, referring to data from a cargo surveyor released on Wednesday. It showed a 1.4% rise in shipments during the first half of February from last month.
"The market, however, is slowing. We're not seeing much strong buying interest... due to high crude palm oil prices."
Palm oil prices have been trading at over four-year highs on tight market supplies, as the lingering effects of a crop damaging El Nino and monsoon floods lowered output in January.
Production declined 13.4% for the full month of January, its sharpest drop in a year, according to data from industry regulator the Malaysian Palm Oil Board.
Palm oil may retest a support at RM2,959 per tonne, a break below which could open the way towards the next support at RM2,879, according to analysis by Wang Tao, a Reuters market analyst for commodities and energy technicals.
In other related edible oils, the March soybean oil contract on the Chicago Board of Trade climbed as much as 0.2%, while the May soybean oil contract on the Dalian Commodity Exchange was up 0.4%.
The May contract for Dalian palm olein also rose 0.6%.
Palm, soy and crude oil prices at 0527 GMT
| | | | | | | |
| --- | --- | --- | --- | --- | --- | --- |
| Contract          | Month    | Last  | Change     | Low   | High   | Volume |
| MY PALM OIL       | MAR7     | 3195   | +2.00    | 3178   | 3211      | 819 |
| MY PALM OIL       | APR7     | 3065   | -2.00    | 3043   | 3079    | 11328 |
| MY PALM OIL       | MAY7     | 2973   | +5.00    | 2952   | 2986    | 15980 |
| CHINA PALM OLEIN  | MAY7     | 6140  | +38.00    | 6090   | 6156   | 401230 |
| CHINA SOYOIL      | MAY7     | 6866  | +24.00    | 6816   | 6872   | 238906 |
| CBOT SOY OIL      | MAR7    | 34.02   | +0.08   | 33.95  | 34.09     | 6589 |
| INDIA PALM OIL    | FEB7   | 566.70   | -4.40  | 566.30    | 570      | 261 |
| INDIA SOYOIL      | FEB7    | 682.8   | -5.70     | 682  | 686.4     | 1350 |
| NYMEX CRUDE       | MAR7    | 53.03   | -0.08   | 52.96  | 53.09     | 4674 |
Palm oil prices in Malaysian ringgit per tonne
CBOT soy oil in US cents per pound
Dalian soy oil and RBD palm olein in Chinese yuan per tonne
India soy oil in Indian rupee per 10 kg
Crude in US dollars per barrel
(US$1 = RM4.4540)
(US$1 = 66.9400 Indian rupees)
(US$1 = 6.8572 Chinese yuan)