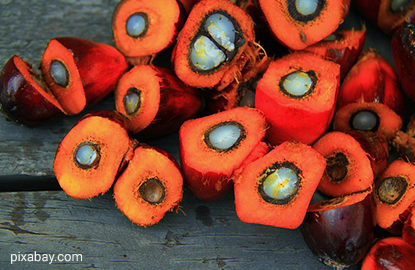 KUALA LUMPUR (Jan 20): Malaysian palm oil futures declined nearly 1% on Friday, charting a third day of losses, as its spread with rival oilseed soy narrowed and on weaker related oils on China's Dalian Commodity Exchange, said traders.
The market fell despite bullish export data from cargo surveyors on Friday, which showed a 17–20% rise in palm shipments from Malaysia between Jan 1–20 versus the previous month.  
Benchmark palm oil futures for April delivery on the Bursa Malaysia Derivatives Exchange fell 1% at RM3,101 (US$698) a tonne at the end of the trading day. It earlier fell to RM3,095, palm's lowest level since Jan 16.
Traded volumes stood at 33,124 lots of 25 tonnes each on Friday evening.
"The spread between palm and soyoil is very narrow now, unless there is a strong movement in soyoil, palm will find it hard to go up," said a futures trader from Kuala Lumpur.
"Soyoil holds the key right now."
The March soybean oil contract on the CBOT is down 0.1% at 35.4 US cents per pound, or about US$780 a tonne.
Another trader added that palm was also tracking weaker performing related oils on Dalian.
The May soybean oil contract on the Dalian Commodity Exchange was down 0.4%, while the May contract for Dalian palm olein also fell 0.4%.
Palm prices are usually impacted by the movements of related edible oils as they compete for a share in the global vegetable oils market.     
Palm oil may test a support at RM3,089, as it failed to break a resistance at RM3,169 again, according to Wang Tao, a Reuters market analyst for commodities and energy technicals.
Palm, soy and crude oil prices at 1037 GMT
| | | | | | | |
| --- | --- | --- | --- | --- | --- | --- |
| Contract          | Month    | Last  | Change     | Low    | High  | Volume |
| MY PALM OIL       | FEB7     | 3234   | -7.00    | 3227    | 3252    | 1359 |
| MY PALM OIL       | MAR7     | 3142  | -25.00    | 3136    | 3167    | 3955 |
| MY PALM OIL       | APR7     | 3102  | -30.00    | 3095    | 3130   | 16700 |
| CHINA PALM OLEIN  | MAY7     | 6282  | -26.00    | 6254    | 6324  | 373692 |
| CHINA SOYOIL      | MAY7     | 7000  | -28.00    | 6976    | 7036  | 264832 |
| CBOT SOY OIL      | MAR7    | 35.39   | -0.05   | 35.35   | 35.55    | 5339 |
| INDIA PALM OIL    | JAN7   | 587.20   | -5.90  | 585.60   | 593.5    | 1171 |
| INDIA SOYOIL     | JAN7    | 731.8   | -1.20  | 731.75   | 732.7     | 710 |
| NYMEX CRUDE       | FEB7    | 51.97   | +0.60   | 51.39   | 52.05    | 2147 |
Palm oil prices in Malaysian ringgit per tonne
CBOT soy oil in US cents per pound
Dalian soy oil and RBD palm olein in Chinese yuan per tonne
India soy oil in Indian rupee per 10 kg
Crude in US dollars per barrel
(US$1 = RM4.4430)
(US$1 = 68.2199 Indian rupees)
(US$1 = 6.8750 Chinese yuan)