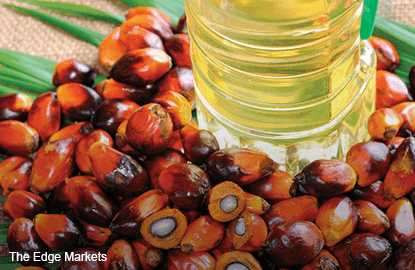 KUALA LUMPUR (Feb 3): Malaysian palm oil edged down on Friday after a rebound in the previous session, tracking vegetable oil futures on the Dalian Commodity Exchange, which reopened after the Lunar New Year holidays.
Benchmark palm oil futures for April delivery on the Bursa Malaysia Derivatives Exchange fell 0.2% to RM3,065 (US$692.89) per tonne in the first-half session. The contract gained 1.4% on Thursday, helped by data showing improved exports and a drop in production, snapping four straight sessions of losses.
Traded volumes were thin with 20,369 lots of 25 tonnes each changing hands.
A Kuala Lumpur-based trader said palm was primarily tracking the movements on Dalian.
"The Chinese are trying to catch up with what's happened to the markets over the last few days. How Dalian performs in the afternoon will be important — if it recovers, palm will follow suit," the trader said.
The trader added that Dalian could be reflecting concerns among Chinese importers after China's central bank raised short-term interest rates to contain capital outflows.
Another trader said palm's fundamentals remained intact, reiterating that traders were taking cues from Dalian.
"Market is drifting and trading in a narrow range, showing its indecisiveness," the trader said.
Palm oil may drop to a support at RM3,014 per tonne, as it has failed to break a resistance at RM3,089, according to Wang Tao, a Reuters market analyst for commodities and energy technicals.
Cargo surveyor Intertek Testing Services said on Tuesday that exports of Malaysian palm oil products for January rose 8.1% to 1,174,893 tonnes from 1,086,523 tonnes shipped during December.
On Thursday, the Southern Palm Oil Millers Association released data showing a fall of 21.8% in production for January.
On the Chicago Board Of Trade, the March soybean oil contract fell 0.4%.
The May contract for Dalian soybean oil was down 1.6%, while the palm olein contract slid 2.1%.
Palm, soy and crude oil prices at 0435 GMT
| | | | | | | |
| --- | --- | --- | --- | --- | --- | --- |
| Contract                     | Month      | Last    | Change         | Low       | High       | Volume |
| MY PALM OIL               | FEB7          | 3250     | -8.00        | 3236       | 3257          | 142 |
| MY PALM OIL               | MAR7          | 3142     | -6.00        | 3125       | 3145         | 1172 |
| MY PALM OIL               | APR7          | 3065     | -7.00        | 3045       | 3067        | 10081 |
| CHINA PALM OLEIN          | MAY7          | 6146   | -132.00        | 6114       | 6256       | 205978 |
| CHINA SOYOIL              | MAY7          | 6858   | -112.00        | 6836       | 6960       | 182054 |
| CBOT SOY OIL              | MAR7         | 34.45     | +0.60       | 34.34      | 34.69         | 4158 |
| INDIA PALM OIL            | FEB7        | 578.00     | +0.60      | 577.00        | 578           | 24 |
| INDIA SOYOIL              | FEB7         | 702.6     | +1.10       | 700.9      | 702.7          | 580 |
| NYMEX CRUDE               | MAR7         | 53.83     | +0.29       | 53.68      | 53.95        | 17233 |
(US$1 = RM4.4235)
(US$1 = 67.40 Indian rupees)
(US$1 = 6.8685 Chinese yuan)