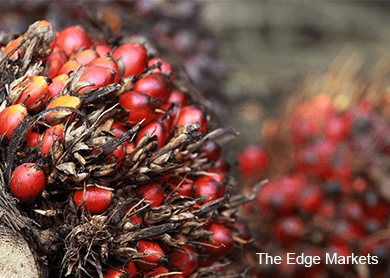 KUALA LUMPUR (Dec 17): Malaysian palm oil futures fell to a two-week low on Wednesday on sustained weakness in crude and soy markets, with investors growing nervous that a brewing financial crisis in Russia may curb appetite for commodities.
Brent futures fell more than 1 percent on Wednesday, down for a sixth straight session, with persistent worries of a supply glut keeping prices near a 5-1/2 year low under $60 a
barrel.
Oil prices, which determine palm oil's usability in biofuels, have skidded in recent weeks after OPEC resisted cutting output in an oversupplied market. Key producer Russia also indicated it would keep output steady.
"Prices are under pressure from continued weakness in both soybean oil and crude oil futures," said a palm oil trader with a Malaysian commodities brokerage. "Sentiment is still fragile albeit lower output and better-than-expected demand."
The trader added that worries of a global meltdown across commodities, which may trigger more selloffs in crude oil futures, is also dampening fresh interest for the tropical oil.
 
The benchmark March contract on the Bursa Malaysia Derivatives Exchange fell to 2,103 ringgit in early Wednesday trade, a Dec. 3 low, before settling at 2,107 ringgit ($604) per
tonne by the midday break, down 0.7 percent.
Total traded volume stood at 16,938 lots of 25 tonnes, above the usual 12,500 lots.       
Technical charts showed that palm oil is expected to fall to 2,085 ringgit per tonne as it has broken support at 2,116 ringgit, according to Reuters market analyst Wang Tao.
He added that the next support is at 2,085 ringgit, and a break below that could lead to a further loss of 2,054 ringgit - a three-month low.
Elsewhere, Asian share markets were mixed on Wednesday, with investors uneasy over the risk of financial contagion spreading from Russia, where an emergency hike in interest rates failed to stop the rouble's descent to new lows.
In competing vegetable oil markets, the most active May soybean oil contract on the Dalian Commodity Exchange shed 0.6 percent in early Asian trade, while the U.S. soyoil
contract for January fell 0.1 percent.
The soybean market is being weighed down by expectations of record production in Brazil. Abundant global stocks of the rival oilseed for crushing could channel demand away from palm oil.