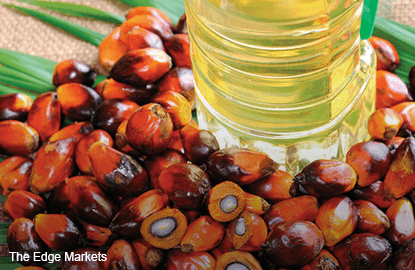 KUALA LUMPUR (Feb 3): Malaysian palm oil ended Friday's trade lower, tracking vegetable oil futures on the Dalian Commodity Exchange and responding to an industry analyst's price forecast.
Benchmark palm oil futures for April delivery on the Bursa Malaysia Derivatives Exchange fell 0.55% to RM3,055 (US$690.24) per tonne in the first-half session.
Traded volumes stood at 51,867 lots of 25 tonnes each.
Palm ended the week's trade nearly flat, with only a small weekly loss of 0.5%. The contract logged its third week of losses.
Leading industry analyst Dorab Mistry said at an event in India on Friday that palm oil prices could fall by about a fifth to RM2,500 per tonne in June or July. The price movement, Mistry said, will be "a knee-jerk reaction at the first signal of rising production, possibly in early or mid-March."
A Kuala Lumpur-based trader said palm was largely dragged down by sagging prices on Dalian, which reopened after the Lunar New Year holidays.
Palm oil prices are affected by the movements of related oils as they compete for a share in the global vegetable oils market.
"Palm is still moving according to Dalian, for one. The second factor pulling prices down is what Mistry said in New Delhi, that palm could fall by about 20% middle of this year. That has a psychological pressure on prices," the trader said.
The trader added that the market is generally expecting a rise in production from April onwards, as rains could lead to an exponential increase in output.   
Palm oil may drop to a support at RM3,014 per tonne, as it has failed to break resistance at RM3,089, according to Wang Tao, a Reuters market analyst for commodities and energy technicals.    
On the Chicago Board Of Trade, the March soybean oil contract fell 0.06%.
The May contract for Dalian soybean oil was down 1.7%, while the palm olein contract slid 2.5%.
Palm, soy and crude oil prices at 1045 GMT
| | | | | | | |
| --- | --- | --- | --- | --- | --- | --- |
| Contract                     | Month      | Last    | Change         | Low       | High       | Volume |
| MY PALM OIL               | FEB7          | 3245     | -8.00        | 3236       | 3260          | 329 |
| MY PALM OIL               | MAR7          | 3140     | -8.00        | 3125       | 3153         | 3659 |
| MY PALM OIL               | APR7          | 3055    | -17.00        | 3045       | 3072        | 21290 |
| CHINA PALM OLEIN          | MAY7          | 6122   | -156.00        | 6114       | 6256       | 272410 |
| CHINA SOYOIL              | MAY7          | 6854   | -116.00        | 6836       | 6960       | 228264 |
| CBOT SOY OIL              | MAR7         | 34.57     | -1.60       | 34.34      | 34.74         | 8762 |
| INDIA PALM OIL            | FEB7        | 575.80     | -1.60      | 574.80      | 578.4          | 583 |
| INDIA SOYOIL              | FEB7        | 701.85     | +0.35       | 700.8      | 703.4         | 8650 |
| NYMEX CRUDE               | MAR7         | 53.79     | +0.25       | 53.58      | 54.05        | 63093 |
(US$1 = RM4.4235)
(US$1 = 67.40 Indian rupees)
(US$1 = 6.8685 Chinese yuan)