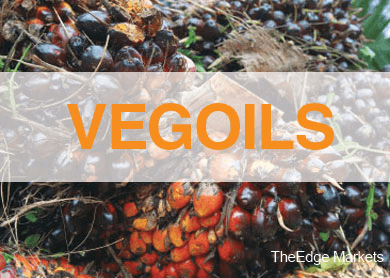 JAKARTA (Aug 27): Malaysian palm oil futures traded higher on Thursday after six sessions of losses, tracking global equity and commodities markets and as the recent selloff brought down palm prices to an attractive level for buyers.   
The benchmark palm oil contract for November on the Bursa Malaysia Derivatives exchange gained 3.2% to 1,927 ringgit ($444.39) a tonne, its biggest one-day gain since June 1.
Traded volume stood at 64,922 lots of 25 tonnes each, well above the roughly 35,000 lots usually traded per day.     
"What's positive is that margins are good for local refiners," said a trader in Kuala Lumpur, adding that the recent market turmoil has widened the price gap between rival bean oil and palm oil products, making them attractive for the consumer.
The palm benchmark hit its lowest level since March 2009 on Tuesday and lost 9.4% in the six sessions to Wednesday.        
A weaker Malaysian ringgit also helped the commodity as it makes palm cheaper for offshore buyers. The ringgit has been emerging Asia's worst performing currency, losing 17% so far this year, on weakness in global currencies and domestic politic woes.
However, outlook on supply may continue to weigh in palm prices.
Nitesh Shahra, president of the refinery division of Ruchi Soya, India's biggest edible oil refiner, says palm prices could drop to 1,800 ringgit if inventories rise further due to poor demand from biodiesel industry. India is a top importer of the commodity.
In comparative vegetable oils, the US September soyoil contract was 2% higher in late Asian trade, while the most active soybean oil contract on the Dalian Commodity Exchange was up 0.5%.    
Oil prices jumped more than 4% on Thursday after a rally in equity markets and an unexpected fall in US crude inventories, but worries over the health of the Chinese economy and a global oil glut kept the outlook.
Palm, soy and crude oil prices at 1012 GMT
| | | | | | | |
| --- | --- | --- | --- | --- | --- | --- |
| Contract | Month | Last | Change | Low | High | Volume |
| MY PALM OIL | SEP5 | 1869 | +69.00 | 1808 | 1869 | 259 |
| MY PALM OIL | OCT5 | 1892 | +56.00 | 1843 | 1892 | 4123 |
| MY PALM OIL | NOV5 | 1927 | +60.00 | 1873 | 1928 | 31797 |
| CHINA PALM OLEIN | JAN6 | 4188 | +12.00 | 4078 | 4196 | 994968 |
| CHINA SOYOIL | JAN6 | 5314 | +26.00 | 5228 | 5320 | 735532 |
| CBOT SOY OIL | DEC5 | 26.97 | +5.90 | 26.48 | 27.01 | 9794 |
| INDIA PALM OIL | AUG5 | 358.10 | +5.90 | 352.50 | 358.70 | 750 |
| INDIA SOYOIL | OCT5 | 574.50 | +5.10 | 567.50 | 575.20 | 45860 |
| NYMEX CRUDE | OCT5 | 40.23 | +1.63 | 38.95 | 40.40 | 51618 |
Palm oil prices in Malaysian ringgit per tonne
CBOT soy oil in US cents per pound
Dalian soy oil and RBD palm olein in Chinese yuan per tonne
India soy oil in Indian rupee per 10 kg
Crude in US dollars per barrel
 
($1 = 65.9700 Indian rupees)
($1 = 6.4038 Chinese yuan renminbi)
($1 = 4.2180 ringgit)